Chinese broccoli (aka gai lan) on it's own can be pretty bland. You'll find Chinese restaurants always serve this vegetable dish with oyster sauce. But if you take one simple extra step of adding shiitake mushrooms to the mix? The result is UNBELIEVABLE. Soooooo delicious. Packed with layers upon layers of flavours. You've got to try this dish!
This side dish pairs really well with pretty much any Asian dish. Serving suggestions: Pork wontons, Hargow (crystal prawn dumplings), homestyle soy sauce chicken (complete the meal with some rice!), Chinese sausage fried rice, etc.
Jump to:
Ingredients
Chinese broccoli (gai lan), also known as Chinese kale is a leafy vegetable with thick stems not the regular broccoli you see covered in green florets!
Oyster sauce is a commonly used Chinese condiment that adds a savoury (or umami) flavour to dishes. You can find oyster sauce at Asian grocery stores. More on oyster sauce below.
Soy sauce also adds the beloved umami flavour into this dish. It is much saltier than the oyster sauce, which adds another layer of flavour.
Shaoxing wine is a Chinese cooking rice wine (really good quality ones can be consumed as a beverage) that is made with fermented rice. Similar to cooking with red or white wine, Shaoxing wine adds depth and aroma to a dish. Substitute: dry sherry.
Dried shiitake mushrooms again, another mega umami bomb. I absolutely looooove these. They're so fragrant and tastes awesome with the sauce in this recipe.
Brown sugar is used a lot in my recipes (instead of white sugar) due to its rich flavour. A little sugar helps balance and bring all the ingredients together.
Cornstarch/cornflour is used to help thicken the sauce so that it catches onto the Chinese broccoli (gai lan), making every bite YUM.
How to prepare shiitake mushrooms and Chinese broccoli
Before anything, the first thing you've got to do is put the kettle on. Use the boiling water to soak the shiitake mushrooms. A trick I learnt from my grandma was to cover the bowl with a small plate. This will trap the heat in the bowl so the mushrooms rehydrate quicker.
More words of wisdom - whenever you use dried shiitake mushrooms, never throw out the soaking water. It has so much flavour, treat it like a stock. It'll make any dish taste amazing.
Now, wash the Chinese broccoli thoroughly. For this recipe, you'll want 1 large bunch or 2 medium-sized bunch. These leafy greens shrink so much so when in doubt, use extra!
Depending on the bunch that's available when shopping, sometimes the stems of Chinese broccoli can be quite thick. If they're about 1.5cm/half an inch (or thicker) in diameter, simply cut the stems in half, lengthways. This will help the vegetable cook evenly and make it easier to eat too!
Cooking instructions
Two parts. First, cook the Chinese broccoli. Then, make the tasty shiitake mushrooms oyster sauce and combine.
There are two ways to cook the Chinese broccoli:
Quickly blanch in salted boiling water in a small saucepan - super quick and easy way of cooking gai lan. It won't need very long, about 1.5 minutes is all! Blanching green vegetables with salted water helps keep the vegetables bright green.
By steaming - nutritionally, this is the best option as it'll help the veggies retain more of its good nutrients.
Then, in a small bowl, combine oyster sauce, soy sauce, shiitake soaking water, cornstarch, sesame oil, white pepper and brown sugar. Mix well.
In a pan or wok, gently fry soaked shiitake mushrooms on medium-high until golden then add the garlic (or ginger slices). Deglaze the pan with some shaoxing wine (or other clear rice wine).
Once aromatic, pour in the oyster sauce mixture and turn the heat down to low. Gently stir until the sauce thickens then add the Chinese broccoli.
Mix well for about 30 seconds then it's done! Super easy and super tasty.
Let's talk oyster sauce
Oyster sauces are typically made of oyster extract, salt, sugar, cornflour/starch (which helps thicken the sauce).
This condiment is available at all Asian grocery stores and major supermarkets such as Coles and Woolworths (if you're in Australia). I like the brand Lee Kum Kee as they sell premium oyster sauces.
What is oyster sauce used for?
Not only does it add flavour, oyster sauces also enhances and brings out the umami flavour of foods. It works brilliantly with various meats such as beef, chicken, pork as well as vegetables. Here is a super yum ginger beef and chicken with black bean sauce stir fry that uses oyster sauce and other condiments to really help make humble ingredients sing.
I reckon this gai lan recipe is better than what you can get at yum cha (dim sum) restaurants. They don't add the secret ingredient: shiitake mushrooms!
Vegetarian oyster sauce
For non-meat eaters, there are vegetarian oyster sauces! Instead of oyster extracts, a variety of mushroom extracts (such as shiitake, oyster mushrooms) are used to make this umami-packed sauce. So this dish can easily become vegan-friendly. 🙂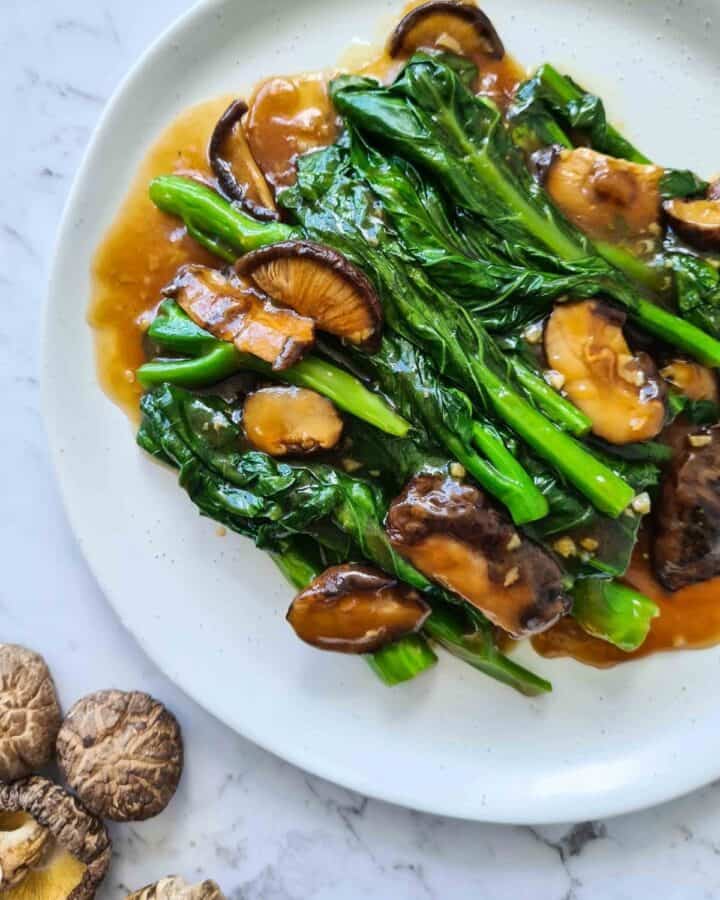 Tips for making this dish awesome
Soak the dried shiitake mushrooms until it's spongy and no longer hard. Don't do what I've done before where I got impatient (because hungryyy!) and decided to cook them when they're still a little dry and hard on the inside. In the hopes that they'll soften in the process of cooking. They don't. Wasn't the best chewing on dried bits. p.s. unless you're making a soup or a stew where the mushrooms will cook in liquid for a good while, definitely soak them until they're ready before cooking.
Fry the shiitake mushrooms till golden. Very important. Colour = flavour in pretty much every case when it comes to cooking. Just like meats, you'll be amazed at how much richer the flavour becomes once you add some colour on the shiitake mushrooms.
Good to know (FAQs)
Can I use bok choy instead of Chinese broccoli?
Yes! However, if you're using bok choy instead, double the vegetable portion as it shrinks even more (thank gai lan) once cooked.
What is Chinese oyster sauce made of?
Oyster sauces are typically made of oyster extract, salt, sugar, cornflour/starch (which helps thicken the sauce).
How do you take the bitterness out of Chinese broccoli?
By quickly blanching and or adding a little sugar! Sugar can help neutralise the bitterness of these leafy greens.
Can oyster sauce be eaten without cooking?
Yes! You can even use oyster sauce as a dipping sauce! However, it takes much better when gently heated and cooked with other ingredients.
Thanks for checking out my recipes! Let me know what you think and/or if you have any questions, drop me a note in the comments section below. 🙂
Happy cooking!
Gen
📖 Recipe
Chinese Broccoli with Oyster Sauce and Shiitake Mushrooms
Chinese broccoli (gai lan) can be a little bland on its own. Try mixing it with a flavour bomb shiitake mushroom oyster sauce! You'll love this.
Print
Pin
Rate
Ingredients
1

bunch

Chinese broccoli (gai lan)

about 250g/9oz, cut in half, lengthways (note 1)

2

cloves

garlic

finely chopped/minced

1

tablespoon

shaoxing wine

1

tablespoon

oil

sunflower or olive oil are both okay

1

teaspoon

salt

4

shiitake mushrooms (dried)

Optional: fresh (note 2)

1

cup

boiling water
Fragrant oyster sauce
1½

tablespoon

oyster sauce

1

teaspoon

soy sauce

1

cup

shiitake soaking water

(note 3)

1

tablespoon

cornstarch/cornflour

⅛

teaspoon

sesame oil

a few drops

⅛

teaspoon

white pepper

½

teaspoon

dark brown sugar

substitute: caster sugar
Instructions
Prepare the dried shiitake mushrooms
In a medium heatproof bowl, add dried shiitake mushrooms and 1 cup of boiling water. Cover and soak for about 20 - 30 minutes or until mushrooms are plump and no longer dry. (note 4)

Once the mushrooms are plump and ready, lightly squeeze each one of them to draw out excess liquid. Reserve the soaking water for later use.

Thickly slice the mushrooms then set aside. Guide: medium-sized mushroom can be sliced into roughly 3-4 thick slices.
Express boil/blanch the Chinese broccoli (optional: steam instead)
Bring a large pot of water to the boil. Add 1 teaspoon of salt to lightly season the water.

Keeping the heat on medium-high, add the stem half of the Chinese broccoli into the boiling water. After 1 minute, add the leafy half of the Chinese broccoli. Gently press the leaves into the boiling water with a slotted spoon or a pair of tongs. Cook for 30 seconds.

Remove the Chinese broccoli and set aside. Discard the cooking water.
Bringing it all together
In a medium-sized bowl, add all of the fragrant oyster sauce ingredients together and mix thoroughly with a spoon.

In a non-stick pan or wok, add 1 tablespoon of oil on medium heat. Once the pan is hot enough, add shiitake mushrooms. Fry for about 2-3 minutes or until mushrooms lightly golden.

Add garlic and stir for about 2 minutes. The kitchen should smell really fragrant at this point. Deglaze with shaoxing wine and let it reduce for a few seconds.

Give the oyster sauce ingredients one more stir, making sure the cornstarch/cornflour have been mixed into the liquid, pour into the pan.

Cook on low heat, stirring constantly until sauce thickens and lightly bubbling. About 2 minutes.

Add the Chinese broccoli into the pan, mixing for about 1 minute. Ensure even coating of sauce. Serve.
Notes
Note 1. Cutting Chinese broccoli (gai lan) After washing, cut the Chinese broccoli in half, lengthways. One half will be the leaves and the other half, largely the stems. 
Depending on the bunch that's available when shopping, sometimes the stems can be quite thick. If they're about 1.5cm/half an inch in diameter, simply cut the stem in half, lengthways. This will help the vegetable cook evenly and easier to eat. 
Note 2. Dried vs fresh shiitake mushrooms for this recipe, dried is preferred as the soaking water will be used to make the sauce. The result is phenomenal (the entire dish becomes super fragrant) so I strongly suggest using the dried version! If using fresh mushrooms, skip the parts about soaking the mushrooms and head straight to step 3. 
Note: Dried shiitake mushrooms are a lot more fragrant than fresh. Hence, it is usually the choice for cooking. However, it is chewier than the fresh ones and so if you're making, for example, mixed mushrooms stir fry or risotto, and want to add shiitake, opt for the fresh ones. This will ensure consistency in texture with other mushroom varieties. 
Note 3. Shiitake soaking water this stuff is super super fragrant so never throw it out! Once the mushrooms are taken out, there is usually little bits of sediment at the bottom. Exclude these by stop pouring just before reaching the very bottom of the bowl when preparing the oyster sauce mixture. 
Note 4. Soaking the shiitake mushrooms in hot water I usually use a ceramic or glass bowl to soak the mushrooms and just cover with a small plate. Covering just allows the heat to be trapped in the bowl and helps the mushrooms absorb water faster. The quicker it's ready, the quicker this dish is to make! 
Nutrition
Calories:
98
kcal
|
Carbohydrates:
15.2
g
|
Protein:
2.8
g
|
Fat:
4
g
|
Saturated Fat:
0.6
g
|
Sodium:
302
mg
|
Potassium:
95
mg
|
Fiber:
1.6
g
|
Sugar:
3
g
|
Calcium:
21
mg
|
Iron:
1
mg
Other delicious side dishes