Rice paper rolls! Fragrant, light and absolutely delicious with a great dipping sauce. Perfect summer meal (hence the aka summer rolls name). These little plump rolls also make great appetisers for when you've got guests over.
Ever since I started making these myself, I find it extremely hard to buy them at food courts or restaurants. Aside from the fact that it's wayy cheaper, it's also way more fun and satisfying making these yourself! I'll explain why a bit further down. Hint: think about the joys of having tacos at home.
Jump to:
Ingredients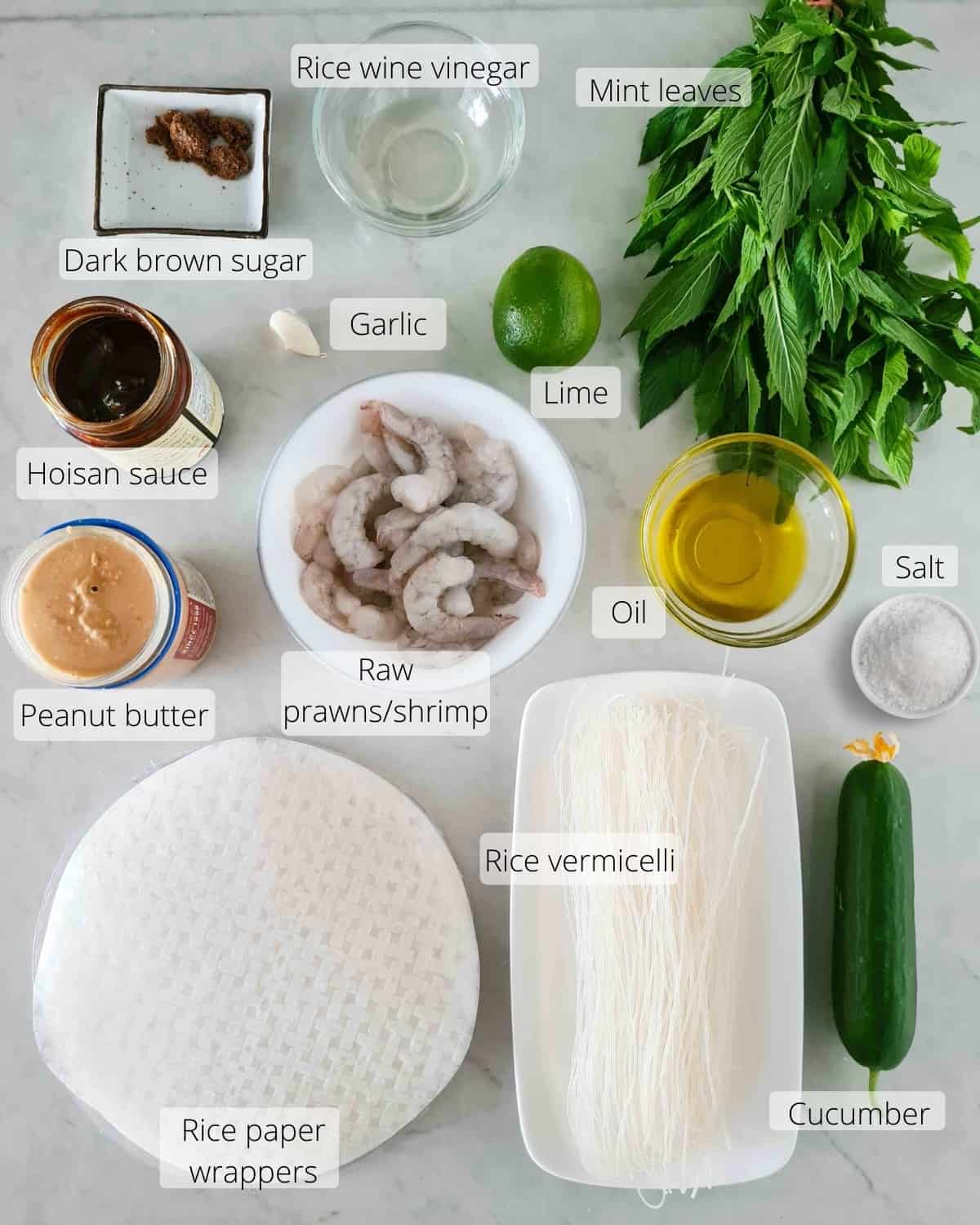 Rice paper wrappers and rice vermicelli are both available at Asian grocery stores. For Aussies, I can now find these (yay!) at both Coles and Woolies (our major supermarkets). As the name suggests, these are made out of ground rice and thus gluten-free (if you're wondering).
Mint leaves really important, makes the rolls super fragrant and fresh.
Peanut butter depending on your preference, I like using crunchy. Adds texture to the sauce.
Hoisan sauce the direct translation means 'seafood' sauce. However, it's actually made of spices, garlic and fermented soybean pastes. It's called so as it adds a seafood-like flavour into dishes. Really versatile, you can add it into stir-fries, use as a marinade, as a dipping sauce, etc. Note, this is the sauce restaurants serve with peking ducks!
Dark brown sugar can substitute with caster sugar. I just like using brown sugars in my cooking as I find it adds a richer flavour.
Rice wine vinegar and lime juice are used to add acidity into the dipping sauce. You can just use one or the other. It won't make a huge difference.
How to make rice paper rolls
Real simple, prepare all the ingredients and have them ready then start rolling! Wrap them tight like a spring roll but not too tight (such a shame when they rip apart!).
So one of the things I learnt years ago is that you don't want to stack the rice paper rolls. They'll stick and when you try pulling them apart, they'll most likely rip. And it can get real messy, real fast. If you're preparing these as appetisers for guests, make sure to leave a little room in between rolls. I'd lightly oil the plate too - so they don't get stuck.
Interactive, DIY eating
I think the best way to enjoy these is the interactive, DIY style. Prepare all the ingredients, make the sauce and spread them out on the dining table. Put a couple of bowls of warm water scattered across the table. Like eating tacos. Everyone gets to make their own and it's a lot of fun! TIP: I use round cake tins to hold the warm water, which is filled about half-way. The shape is perfect for the wrappers!
Filling suggestions
No hard rules here, go ahead and prepare a variety of proteins so people can alternate in between rolls. So cooked prawns, maybe thickly sliced teriyaki chicken, beef steak slices, firm tofu or even pan fried-fish! Don't limit yourself to just prawns, have a bit of fun and add whatever you and your family like!
The same goes for the veggies. Some additional suggestions: thinly sliced red cabbages, matchstick carrots, chives, baby spinach leaves, watercress or even avocado slices!
Tips for top notch rice paper rolls
Don't go overboard with the filling - similar to spring rolls, overfilling will cause the roll to rip/ingredients spill out whilst you're rolling. It might take a couple of tries to figure out how much is enough. A general rule of thumb: you want to get about 3 decent bites out of each roll.
Only soak the rice paper wrappers in warm water for about 5 seconds and no longer. The first time my family and I tried making our own rice paper rolls at home, we had no idea and soaked the rice paper wrappers for wayyyy too long. The result? A mess and couldn't get one roll out of the wrappers. 5 seconds is all you need. It may still seem a little hard but by the time you've put the fillings in and start rolling, the consistency will be soft to perfection.
Soak one rice paper roll at a time. Overlapping the wrappers in warm water will risk them sticking together. Once that happens, there's no going back. They're stuck for life.
Serve with a killer dipping sauce for maximum enjoyment.
Eat as soon as it's rolled! Well, within the next hour or two. Once they're rolled, never, ever, put them in the fridge. It'll dry out and harden the wrappers and the texture just won't be pleasant. I've tried it, trust me. Not the best. I've also tried covering them in airtight containers, alas, to no avail.
Dipping sauces
In this post, I've included a recipe for a delicious and tangy peanut sauce. I absolutely love this lightly creamy sauce and think it just goes perfectly with the light and refreshing rice paper rolls.
You could also have it with a Nước chấm, which is a Vietnamese dipping sauce that is generally made of: fish sauce, water, sugar, lime juice (with or without vinegar) and chilli.
Or, do what is often seen at sushi takeaways, dip your plump and yummy rice paper rolls in some good old sweet chilli sauce.
Other recipes you might like
Thank you for checking out my recipes! Let me know what you think and/or if you have any questions, drop me a note in the comments section below. 🙂
Happy cooking!
Gen
📖 Recipe
Vietnamese rice paper rolls (summer rolls)
Fragrant, light and absolutely delicious with a great peanut dipping sauce. Perfect summer meal for the family (hence the aka summer rolls name). These little plump rolls also make great appetisers for when you've got guests over.
Print
Pin
Rate
Ingredients
8

rice paper wrappers

24

raw, peeled and deveined prawns/shrimp (large)

about 300g/10oz

1

cup

cooked vermicelli rice noodles

about 150g/5oz

1

cucumber

cut into thick matchsticks

1

bunch of mint leaves

1

tablespoon

oil

1

clove

garlic

minced

salt
Peanut dipping sauce
1

tablespoon

peanut sauce

½

tablespoon

hoisin sauce

1

teaspoon

rice wine vinegar

½

teaspoon

fresh lime juice

about a squeeze

½

teaspoon

dark brown sugar

or caster sugar

2

teaspoon

water

add more or less depending on desired thickness
Instructions
In a non-stick pan on medium heat, add oil and garlic. Once the garlic starts to sizzle, add prawns/shrimp and a pinch of salt in the pan.

Toss the prawns/shrimp in the pan and set aside once cooked. Takes about 3 - 4 minutes.

Cook vermicelli noodles according to packet instructions. Generally, it is just soaking in hot water for 5 - 8 minutes.
Assembling rice paper rolls
Once ready to assemble, pour warm water into a bowl or a round cake pan. Set aside.

To make the rice paper roll, dip and soak 1 rice paper wrapper in the warm water for 5 seconds. Then, place rice paper wrapper onto a clean bench or a large plate.

Now the filling: in the centre of the wrapper, slightly further down, place 3 prawns, a couple of cucumber matchsticks, 2 or 3 mint leaves and a small pinch of vermicelli noodles (about 1 - 2 tbsp). (note 1)

Fold in the bottom of the rice paper, covering the filling, then fold in left and right of the rice paper. Finally, roll upwards, firmly. Kind of like wrapping a spring roll or a tiny burrito.

Repeat for the rest of the rolls.
Making peanut dipping sauce
In a small bowl, combine all dipping sauce ingredients, except the water. Mix with a teaspoon until a smooth consistency has formed.

Now, add and mix in 1 teaspoon of water at a time. You may want to add a little more or less water depending on how thick you want the sauce to be.
Notes
Note 1. Filling suggestions There are no hard rules with rice paper rolls. This recipe is a basic one with prawns. Feel free to use more types of proteins and vegetables for variety!
Other protein suggestions: steak slices, pan-fried fish, sushi-grade salmon slices, teriyaki chicken slices, firm tofu, etc
Other vegetable suggestions: thinly sliced red cabbages, carrot matchsticks, baby spinach leaves, watercress, avocado, etc. 
When rolling, be mindful of the amount of filling you add. Too much will cause the wrapper to rip! A general rule of thumb - put enough for about 3 mouthfuls. 
Make it interactive! Like tacos, prepare all the ingredients, the sauce, couple of bowls of warm water and place them on the dining table. Each person makes their own rolls and this is particularly fun as you can mix and match different filling to your liking!
Other dipping sauces to use aside from the peanut dipping sauce, below are two other sauces you could use:
Nước chấm, a Vietnamese dipping sauce that is generally made of: fish sauce, water, sugar, lime juice (with or without vinegar) and chilli.
Sweet chilli sauce often seen at sushi takeaways, straight out of the bottle, no prep required.
Making ahead rice paper rolls are best served as soon as they're rolled. However, they're okay to be made 1 to 2 hours before serving. Do not put them in the fridge. Store at room temperature, covered with a lightly oiled cling film/plastic. Rice paper rolls dry out and harden in the fridge and this, unfortunately. is irreversible. Avoid the fridge at all cost!
Nutritional value listed excludes the dipping sauce. 
Nutrition
Calories:
463
kcal
|
Carbohydrates:
69.3
g
|
Protein:
25.8
g
|
Fat:
7.9
g
|
Saturated Fat:
1.2
g
|
Potassium:
278
mg
|
Fiber:
3
g
|
Sugar:
2.7
g
|
Iron:
1
mg