Got some cheap beef cuts and don't know what to do with it? Use it for this super quick and easy ginger beef and kale stir fry! Comes with a lovely flavoursome sauce that goes perfectly with a bowl of rice.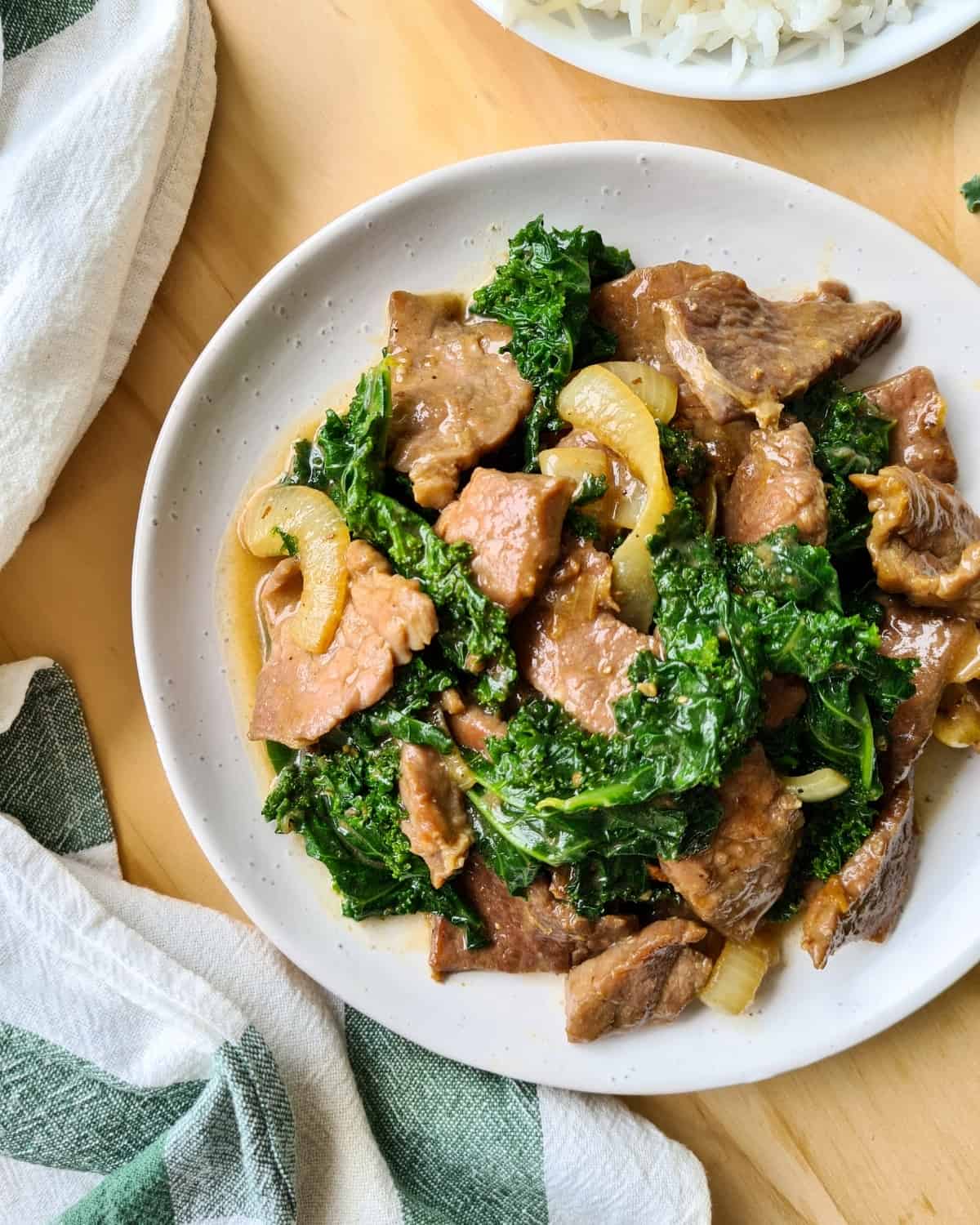 Forget about ordering takeout, this dish takes less than 30 minutes to make and the flavours are just incredibly delicious! Plus, homemade is always best!
Jump to:
Ingredients
Oyster sauce is a commonly used Chinese condiment that adds a savoury (or umami) flavour to dishes. It is typically made of oyster extract, salt, sugar, cornflour/starch (which helps thicken the sauce). More on oyster sauce below.
Soy sauce also adds the beloved umami flavour into the beef. It is much saltier than the oyster sauce, which adds another layer of flavour.
Shaoxing wine is a Chinese cooking wine (really good quality ones can be consumed as a beverage) that is made with fermented rice. Similar to cooking with red or white wine, Shaoxing wine adds depth and aroma to a dish.
Brown sugar is used a lot in my recipes (instead of white sugar) due to its rich flavour. A little sugar helps balance and bring all the marinating ingredients together.
Baking soda is your friend (and secret weapon) to lovely tender beef! Beef, when cooked to well done (often the case when making a stir fry), tend to get quite tough, especially the cheap cuts. A little baking soda (bi-carb soda) will help tenderise the meat (like magic) and is used quite often at many Chinese takeouts/restaurants!
Step by step instructions
STEP 1. Combine beef marinade ingredients with beef strips/slices, mix well and marinate for 10 minutes.
STEP 2. Saute thick slices of onions on medium-high heat until lightly golden. Add minced fresh ginger and stir through for about 20 seconds.
STEP 3. Add marinated beef and stir fry on high heat for about 30 seconds. The beef should be lightly browned but not cooked through. Like image #4 above.
STEP 4. Add kale leaves, black pepper and continue to stir fry until kale starts to soften and significantly reduce in size. This takes less than 1 minute. They cook quick!
STEP 5. Reduce heat to medium. Add cornflour/starch mixture (cornflour, water and oyster sauce) into the pan and mix through for about 1 minute. This cornflour /starch mixture will become the flavoursome sauce to drizzle over rice. Give the sauce a taste. Does it need more salt? more heat from the pepper? Season accordingly.
That's it! Takes less than 10 minutes to cook, the ideal weeknight quick dinner.
Serve this ginger beef and kale stir fry with freshly cooked rice.
What is oyster sauce used for?
Not only does it add flavour, a small dash of oyster sauce also enhances and brings out the umami flavour of foods. It works brilliantly with various meats such as beef, chicken, pork as well as vegetables. A little oyster sauce with some sauteed mushrooms and gai lan choy (Chinese broccoli) is a great dish on its own.
For non-meat eaters, there are vegetarian oyster sauces! Instead of oyster extracts, a variety of mushroom extracts (such as shiitake, oyster mushrooms) are used to make this umami-packed sauce.
Oyster sauces are available at all Asian supermarkets and major supermarkets such as Coles and Woolworths (if you're in Australia).
Tenderising meats with baking soda - velveting
Ever wondered how the meats from your favourite Chinese restaurant/takeout joint are always super tender? Especially beef slices that STAY TENDER even after you've reheated it in the microwave?
The secret here is that they add a little baking soda when marinating the meats. This awesome, life changing (yes, life changing) technique is called velveting - the meat becomes tender and 'velvety' in texture. Like the image above.
A base velveting marinade would have soy sauce, sugar, shaoxing wine, corn starch and of course, baking soda. Other condiments can be added (like oyster sauce in this recipe) for additional flavour.
How long to tenderise beef
For stir-fries, marinating the beef for about 10 minutes is all you need to achieve tender beef slices/strips.
A little baking soda goes a long way...
Make sure you don't overdo it with baking soda. I've made the mistake before of adding too much baking soda in a beef marinade once and the vegetables in my stir fry started breaking apart! Yikes! Luckily, it did not impact the flavour and it was still yum.
Other quick and easy meals done in less than 30 minutes
Thank you for checking out my recipes! Let me know what you think and/or if you have any questions, drop me a note in the comments section below. 🙂
Happy cooking!
Gen
📖 Recipe
Ginger beef and kale
This healthy ginger beef and kale stir fry is a great quick and flavoursome weeknight meal. Excellent way to cook an economical cut of beef. Serve with rice.
Print
Pin
Rate
Save
Saved!
Ingredients
300

g

lean beef

cut into strips or thin slices (note 1)

100

g

kale leaves

weight is for leaves only. About 4 cups

½

onion

thickly sliced

1

tablespoon

fresh ginger

minced or thinly sliced

2

tablespoon

oil

such as canola or sunflower

1

teaspoon

cornflour/starch

1

teaspoon

oyster sauce

¼

cup

cold water

(note 2)

salt and pepper to taste

(optional)
Beef marinade
1

tablespoon

soy sauce

½

tablespoon

shaoxing wine

1

teaspoon

oyster sauce

1

teaspoon

dark brown sugar

½

teaspoon

baking soda (bi-carb soda)

not baking powder!

½

tablespoon

cornflour/starch

½

teaspoon

oil

such as canola or sunflower

½

teaspoon

black pepper
Instructions
In a bowl, combine beef slices with beef marinade ingredients. Mix well and marinate for 10 minutes.

Mix oyster sauce, cornflour/starch and cold water in a bowl. Set aside.

In a large non-stick pan, saute onion slices with 2 tablespoon of oil. Cook on medium-high heat until onions have turned lightly golden.

Add minced or sliced ginger, saute for about 10 seconds or until ginger becomes aromatic.

Add marinated beef slices and saute on high heat until lightly browned/caramelised and beef not cooked through.

Add kale leaves, continue to stir fry on high for about 1 minute or until kale has softened and significantly reduced in size.

Give the cornflour/starch mixture prepared in step #2 above a mix with a spoon (cornflour/starch would have settled at the bottom of the bowl). Pour mixture into the pan. Reduce heat down to medium, cook for 1 minute, mixing constantly.

Give the sauce a taste and season with salt and pepper to your liking. I like to go heavy on the pepper here for a little added heat.
Notes
Note 1. Lean beef since the beef will be tenderised through the marinating process (by adding baking soda), best use an economical (cheap) cut of meat. Chuck steak or topside cuts are perfect to use for this recipe. Note 2. Cornflour/starch mixture make sure to mix cornflour/starch with cold water and not hot. Hot water will clump up the mixture and you'll end up with lumpy bits in the sauce.  Note 3. Beef substitute this recipe works best with beef. However, can swap for pork or chicken slices too.  Gen's tip: to bulk up this dish, stir in some thickly sliced firm tofu with a teaspoon of soy sauce 30 seconds before adding kale leaves into the pan. 
Nutrition
Calories:
392
kcal
|
Carbohydrates:
14.6
g
|
Protein:
37.1
g
|
Fat:
20.2
g
|
Saturated Fat:
2.3
g
|
Sodium:
830
mg
|
Potassium:
347
mg
|
Fiber:
1.9
g
|
Sugar:
3.4
g
|
Calcium:
81
mg
|
Iron:
1
mg