Healthy, easy and absolutely delicious. This marinated chicken stir fry recipe is cooked with oyster sauce (and other good stuff) which means it is proper tasty and fantastic on a weeknight when you just need something quick.
You can easily swap the green beans out with broccoli, turning this dish into a flavourful chicken and broccoli stir fry! Love a good stir fry? Try my Chicken Noodle Stir Fry and San Choy Bow (lettuce wraps) recipes.
Marinating chicken with a great marinade that contains cornflour/cornstarch means it'll be tender, juicy and packed full of flavour.
Another way to tenderise meats in stir fries is through the 'velveting' process. I went into detail on how to make deliciously tender beef stir fries using cheap cuts in this Ginger Beef and Kale recipe.
Jump to:
Ingredients
Oyster sauce is a commonly used Chinese (amazing!) condiment that adds a savoury (or umami) flavour to dishes. Head on over to my Chinese Broccoli (gai lan) with Shiitake recipe where I talk more in-depth about oyster sauce uses, ingredients and suitability for vegetarians!
Soy sauce also adds the beloved umami flavour to this dish. It is much saltier than the oyster sauce, which adds another layer of flavour.
Shaoxing wine is a Chinese cooking wine (really good quality ones can be consumed as a beverage) that is made with fermented rice. Similar to cooking with red or white wine, Shaoxing wine adds depth and aroma to a dish.
Cornstarch/cornflour is super important here! This will not only create a luscious coating around the chicken, it will also help thicken the tasty sauce so that it catches onto the veggies (plus extra for drizzling over rice!).
Boneless, skinless chicken thighs is ideal however chicken breasts will work well too.
Green beans can be swapped with snow peas, sugar snap peas or even capsicums (bell peppers).
Step by step instructions
This vegetables and marinated chicken stir fry recipe quite straight forward and easy to make. To save time and be as efficient as possible, it is best to marinate the chicken first then prepare the remaining ingredients.
Marinate the chicken and cut the vegetables
To start, cut the chicken into bite sized pieces then in a small bowl, marinate the chicken with oyster sauce, soy sauce, shaoxing wine, cornstarch, minced garlic and black pepper. Set it aside and marinate for 15 minutes, up to 24 hours.
Whilst the chicken is marinating, wash and cut the green beans and carrots. Stir fries do not take long to cook thus it helps to cut the key ingredients (chicken and vegetables) into similar sized pieces so they cook evenly.
Stir fry
Now come the exciting part.
To begin cooking, add a tablespoon of oil in a large skillet, pan or wok. Add the sliced chicken thighs and cook on high heat until nicely caramelised. Like collage image #5 below. The more colour you add to the chicken at this stage, the more flavour this dish will have.
Chicken naturally contains a bit of liquid which are released as it cooks. To achieve caramelisation, it is crucial to have the heat on high and not stirring the chicken constantly. Spread it out onto the pan in a single layer, allow it to sizzle until the pan-side is caramelised then flip and cook the other side. The chicken's natural juices release faster if you keep stirring so don't be tempted!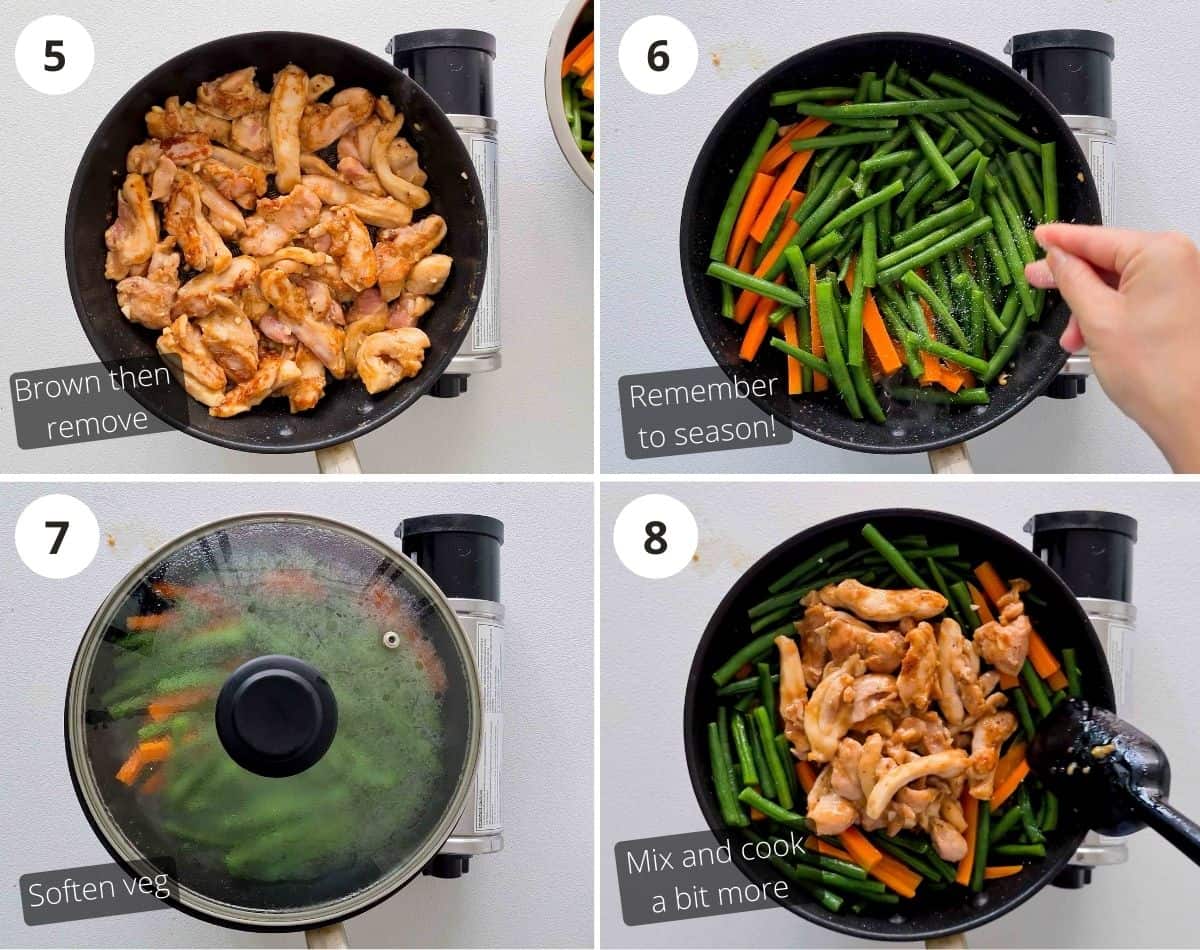 Once the chicken have caramelised and almost cooked through, remove and set aside. Add the vegetables (green beans and carrots) into the pan, season with salt and pepper then add half a cup of water and bring to a boil. Cover the pan with a lid and cook the veggies utill soft over medium-high heat and the water is mostly evaporated.
To finish up, add the sauteed chicken back into the pan along with the juicies/sauce mixture at the bottom of the bowl. Stir fry for about 2 minutes until the chicken is fully cooked!
If you are using sugar snap peas or snow peas instead of green beans, do not steam cook them with the carrots. Add them in together with the sauteed chicken in the last 2 mintues of cooking to keep them crisp tender and not mushy.
Serve this marinated chicken stir fry with some freshly steamed rice for a wholesome and healthy dinner.
Tips for making a great chicken stir fry
Stir fries are all about big flavours and short cook time.
Caramelise the chicken is super important to create great flavour! This means making sure the pan is nice and hot before adding the chicken in.
Cut the main ingredients into similar sizes so that they cook evenly. Stir fries cook quick!
Marinate the chicken for mega flavours and tender bites. Even just 15 minutes will make a noticeable difference to the tenderness and flavour of the chicken. For best results, marinate for at least 15 mintues or overnight, up to 24 hours.
Lightly season the vegetables with salt when cooking. Flavour! You don't want bland beans and carrots on the inside.
Good to know (FAQs)
How do you make stir fry chicken so it's tender?
By marinating for at least 15 minutes. Best add cornflour/cornstarch into the marinate. This will create glossy, juicy and luscious chicken. This works brilliantly with chicken thighs and breasts.
Can I use marinade as a sauce?
Absolutely! To make this chicken stir fry extra saucy (to all you rice lovers out there), make an extra half a batch of the marinade ingredients (exclude the shaoxing wine and garlic) of this recipe.

Mix thoroughly with 1 cup of cold water. Replace this mixture with the ½ cup of water at instructions step #8 within the recipe card. Not only will this result in extra sauce, the flavours will be even more intense.
The secret to a great stir fry
Make sure the pan/wok is hot before adding ingredients. This will allow the meat to sizzle and caramelise, creating amazing flavours.
Leftovers/freezing
IF you have any leftovers, they keep well in the fridge for up to 4 days.
To freeze, pack in an airtight freezer container or bag. Lasts up to 3 months.
Enjoyed this marinated chicken stir fry recipe? Let me know your thoughts/questions by dropping a note in the comments section below! I'd love to hear from you 🙂
Happy cooking!
Gen
📖 Recipe
Marinated chicken stir fry with green beans
Healthy, easy and absolutely delicious. This marinated chicken stir fry is cooked with oyster sauce (and other good stuff) making it super tasty. A great weeknight meal.
Print
Pin
Rate
Ingredients
450

g

/ 1lbs chicken thighs

about 4, cut into thick slices

300

g

/ ¾ lbs green beans

halved

1

carrot

halved then cut into thick sticks

2

cloves

garlic

minced

1

tablespoon

oil

salt and black pepper
Chicken marinade
1

tablespoon

oyster sauce

½

tablespoon

soy sauce

½

tablespoon

shaoxing wine

1

tablespoon

cornstarch / cornflour

1

clove

garlic

minced

⅙

teaspoon

black pepper
Instructions
In a medium bowl, combine chicken and chicken marinade. Mix well, cover and marinate for 15 minutes, up to 2 hours.

When ready to cook, add oil to a large non-stick pan or skillet on high heat. Allow the pan to heat up then add the marinated chicken into the pan, spreading it out into a single layer. (note 1)

Once the pan-side of chicken is caramelised/brown, flip the chicken over and saute the other side. About 1 - 2 mintues per side.

Remove chicken from the pan, set aside.

In the same pan (no need to wash), add beans, carrots, ⅓ cup of water and a couple of pinches of salt. Bring up to boil then reduce heat down to medium and cover with a lid. Cook until vegetables are soft. About 4 minutes.

Remove the lid, then make room in the centre of the pan by pushing the vegetables to the rims of the pan. Add garlic and allow it to sizzle for 30 seconds.

Turn the heat up to high and add the chicken back into the pan, stir through with the vegetables. Cover with a lid, cook for 3 minutes.

Remove the lid, add black pepper and ½ cup of water and stir through constantly for 1 minute or until sauce is thick and glossy.

Serve with steamed rice and enjoy!
Notes
Note 1. Caramelising / browning chicken Chicken naturally holds quite a lot of liquid which releases as it is being cooked. To get good caramelisation on the chicken, do not stir it as it is sizzling on the pan. Allow one side to brown then flip and sizzle/saute the other side. This process will create amazing flavours (colour = flavour). 
Nutrition
Calories:
392
kcal
|
Carbohydrates:
21.1
g
|
Protein:
41.7
g
|
Fat:
19.1
g
|
Saturated Fat:
3.9
g
|
Cholesterol:
161
mg
|
Potassium:
439
mg
|
Fiber:
6
g
|
Sugar:
4.7
g
|
Calcium:
75
mg
|
Iron:
4
mg
More quick and easy dinners