A healthy and very delicious way of eating fresh fish! Steaming fish helps retain its delicate and lightly sweet flavour that is only around when the fish is at its freshest. This Chinese steamed fish celebrates the freshness of fish and what better combination than the classic ginger and spring onions (scallions)! What's more, this dish takes just under 25 minutes to make!
For more quick and easy Chinese recipes, also check out my Beef Noodle Stir Fry, Prawn Fried Rice and Stir Fried Squid!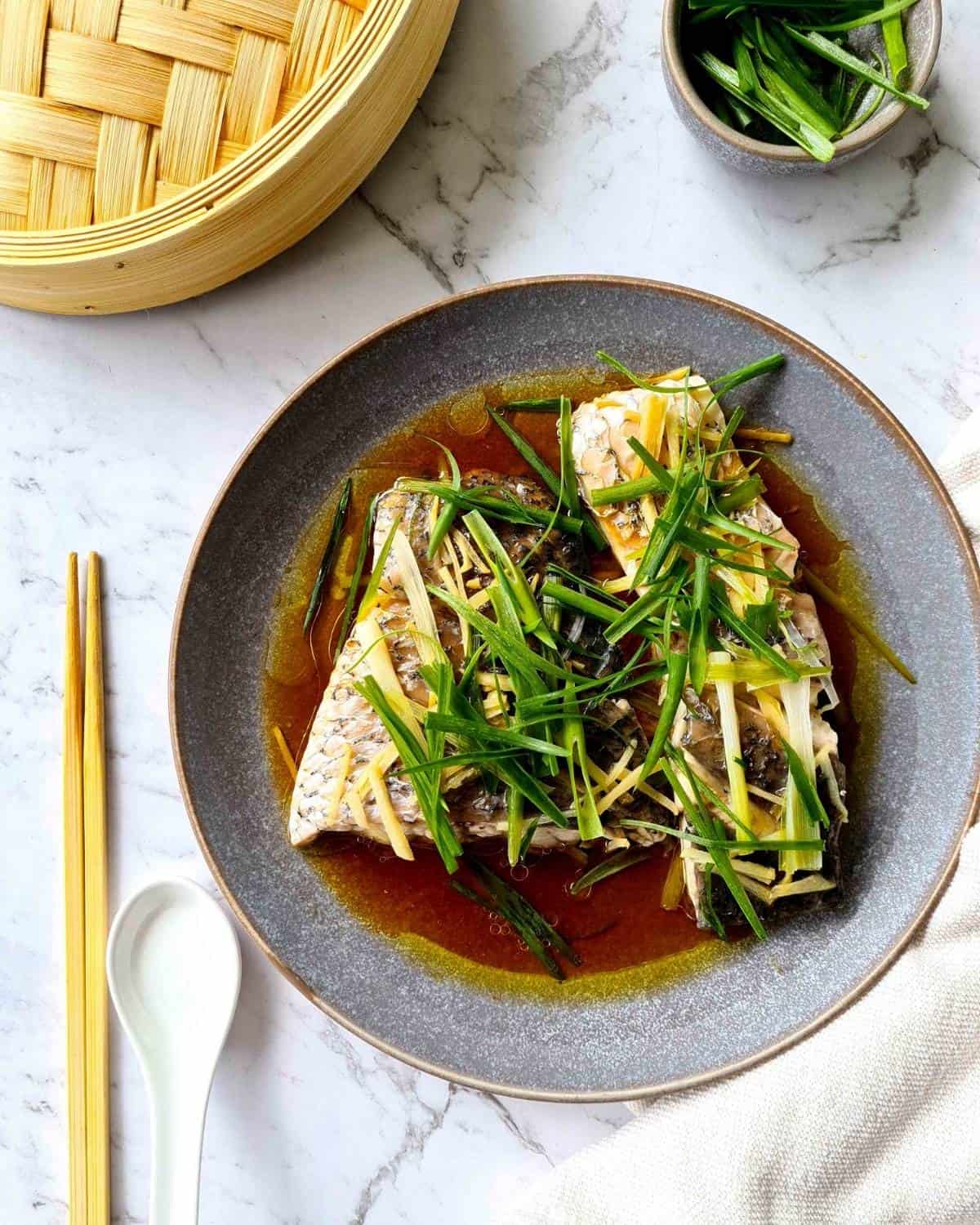 Whole fish or fillets?
The most popular way of cooking a Chinese steamed fish is by using whole fish. For good reasons too. Anything cooked with bone-in tastes the best. However, sometimes it's just not always available at the supermarkets and your only options are fish fillets.
If you managed to get whole, fresh fish from your local fishmonger, awesome! This recipe still holds, the steps and cook times are the same.
However! Come luna new year, the fish must be whole! Obviously, for auspicious reasons 🙂 Having the head and tail of the fish intact is symbolic of wholeness or completeness; there is a beginning and an end.
Jump to:
Ingredients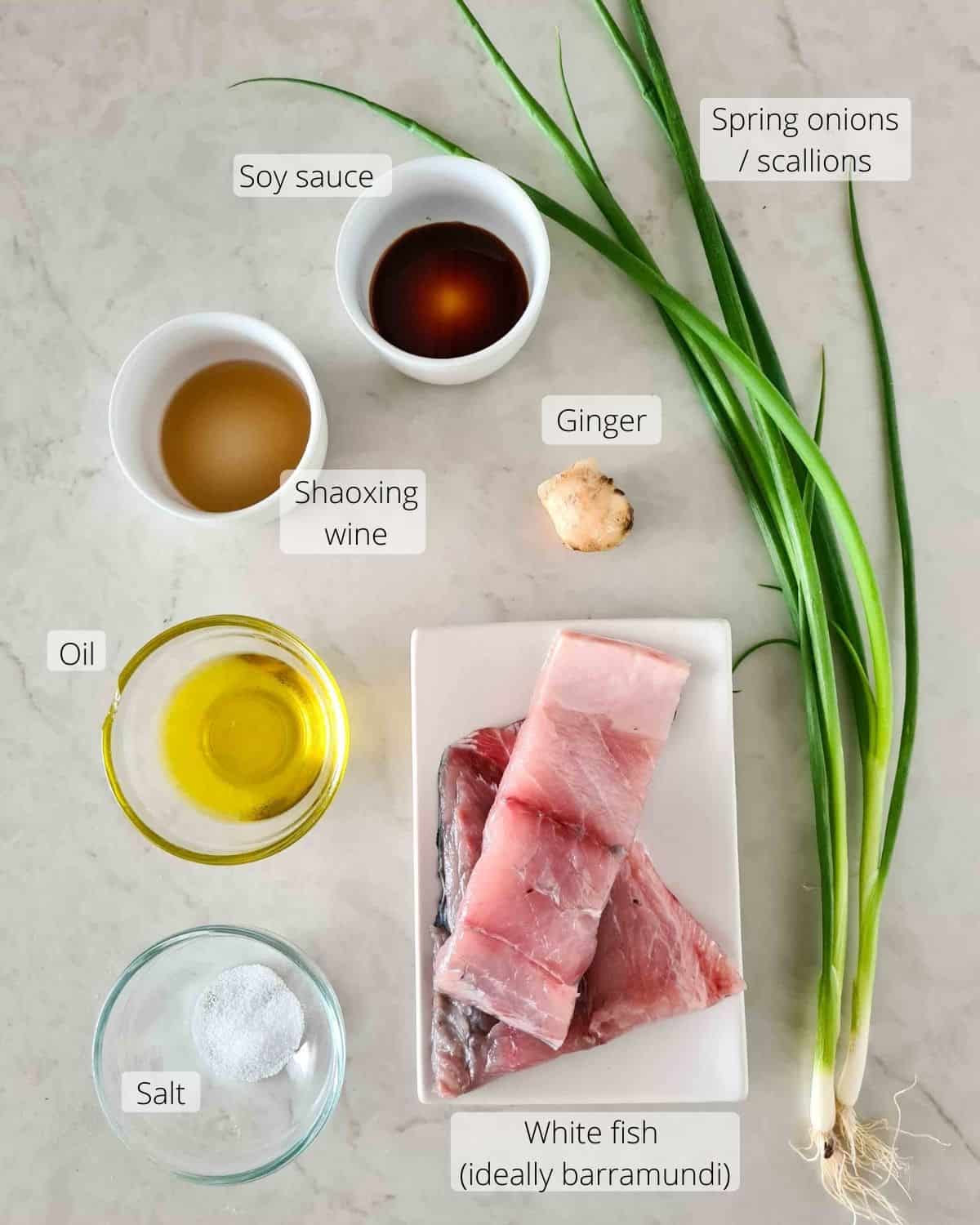 White fish any fresh white fish will work nicely for this recipe. If you have access to it, I highly, highly recommend barramundi fish. It is silky, buttery, meaty and the ideal fish for this recipe. Otherwise, sea bass, cod or snapper works brilliantly too. Love salmon? Good news, salmon works too!
Soy sauce adds umami (savouriness) flavour to the fish.
Shaoxing wine is a Chinese cooking wine (really good quality ones can be consumed as a beverage) that is made with fermented rice. Similar to cooking with red or white wine, Shaoxing wine adds depth and aroma to a dish. Can be substituted for dry sherry.
Oil best use neutral-tasting oil such as canola or sunflower oil. However, I used extra virgin olive oil (I use this in most of my cooking, even Chinese dishes) when filming and honestly, couldn't tell the difference aside from the colour.
How to steam fish
When it comes to steaming fish Chinese style, a lot of the work is done during the preparation stage. The actual cook time is only about 7 minutes.
Ginger and spring onions/scallions add subtle flavours to the fish and the sauce. Make sure to thinly slice both into thin matchsticks. This will help distribute its flavours evenly throughout the fish.
Green parts of spring onions are more subtle in its onion flavour compared to the white parts. Thus it is reserved to be used as garnish when serving. Plus, it also helps add a lovely vibrant colour to the dish.
Prepare the fish
To begin, rince the fish and pat dry. Then, make shallow incisions on top of the fish fillets, in the thickest part of the flesh. Make sure to use a sharp knife! It's actually very difficult to slice through the fish skin when the knife is blunt. I've tried, don't recommend it, you lose control over how deep the cuts are and end cutting the flesh too deep.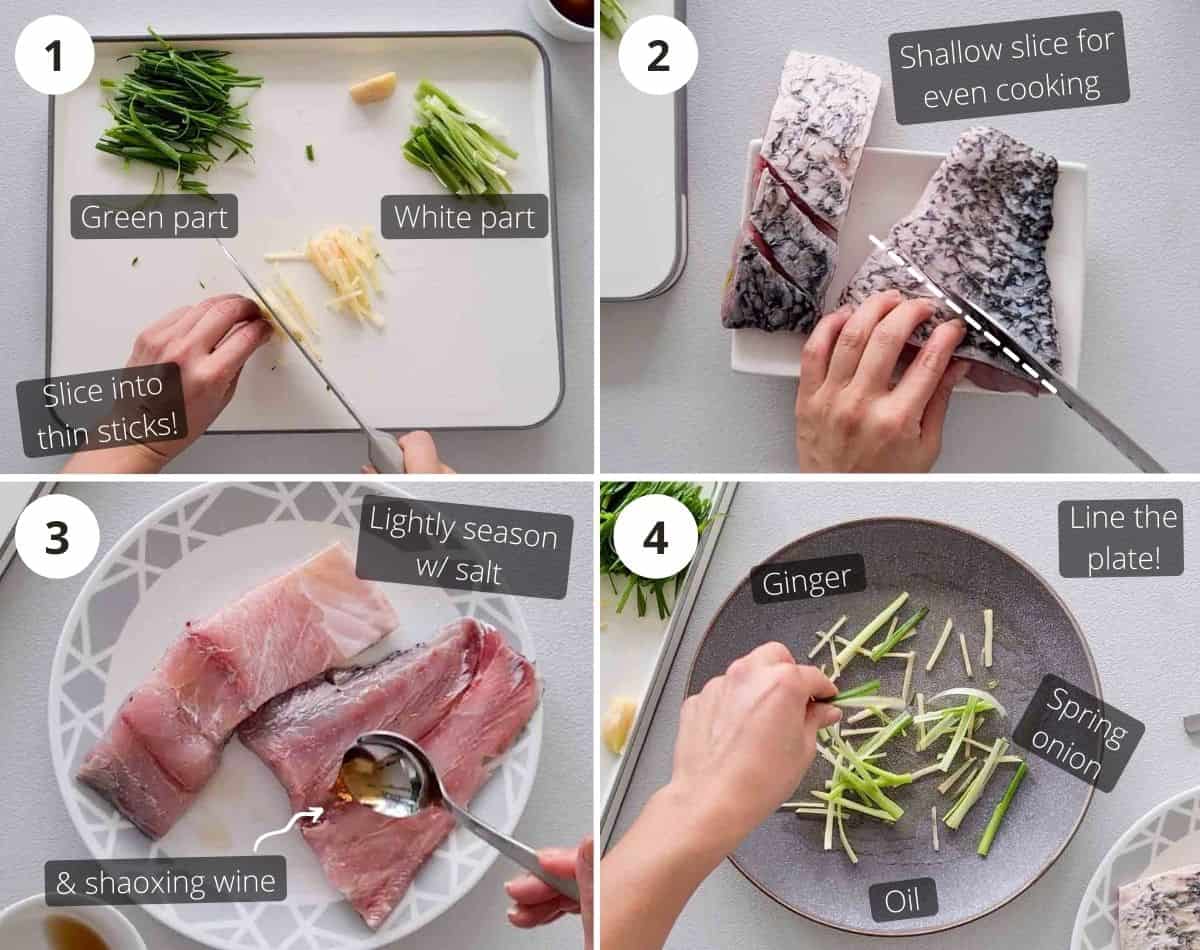 Next, lightly season the barramundi fish fillets with salt and shoaxing wine on both sides. By setting the fish aside for marination, even just 10 minutes, makes a big difference here! It allows time for the salt to sip into the flesh and thus making it nice and tasty. Important to remember to only very lightly season with salt in this step.
Steam on high heat
When ready to steam, transfer the fish onto a plate lined with a little oil, ginger and spring onions (scallions). Then, drizzle a little soy sauce then top with remaining ginger, oil and spring onions.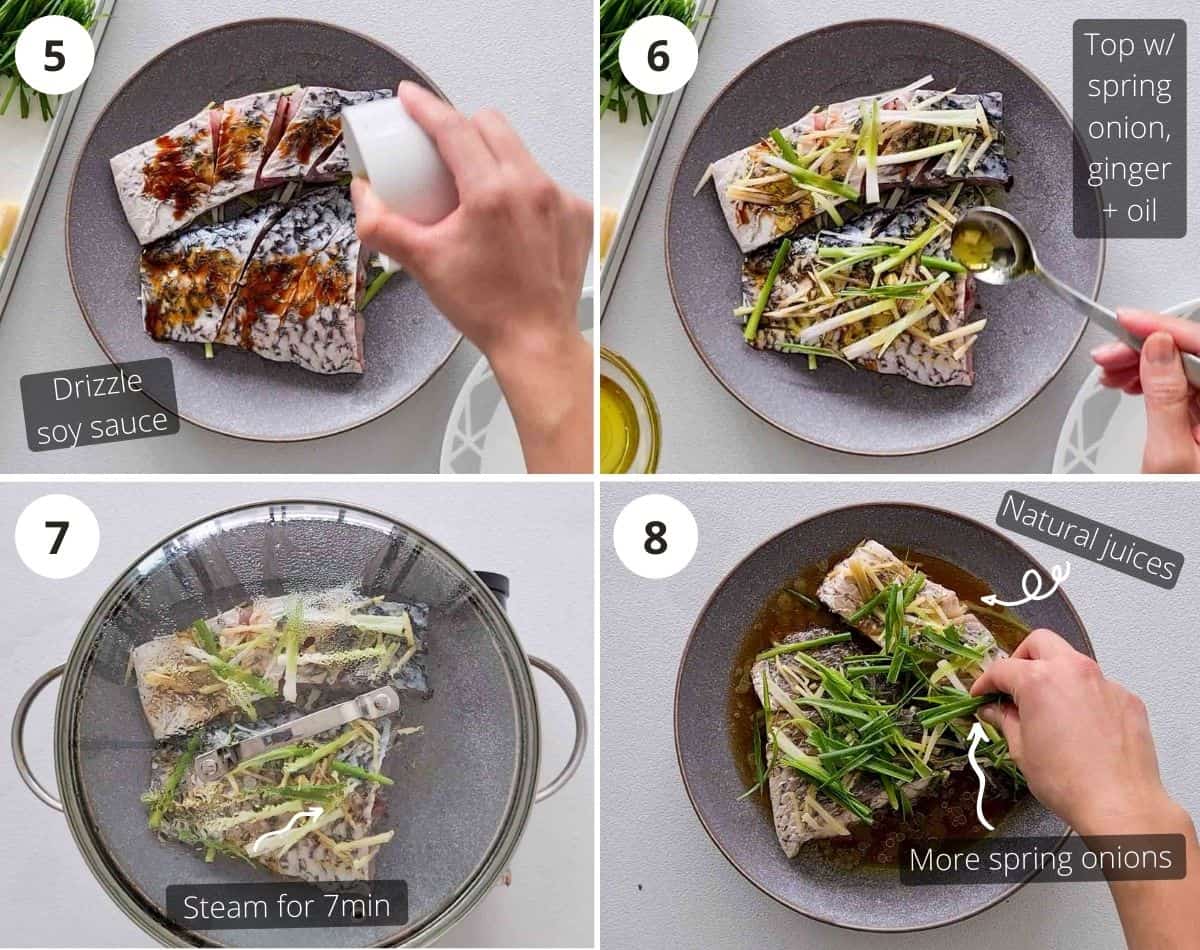 A small amount of soy sauce is added just before cooking and not during marinating time. This will add the umami flavour and complexity to the overall dish but at the same time, retaining the integrity of the freshness of the fish.
Bring water to a boil in a steaming pot, transfer the prepared plate of fish onto a steamer, cover and steam for 7 minutes. That's how long it takes for perfectly steamed fish! Over steaming will result in the fish becoming dry and chewy.
Fish is cooked when it flakes off easily when picked at with a fork and flesh is solid white and no longer translucent.
Love seafood? Try this weeknight-friendly, delicious 20-minute Creamy Garlic Prawn Pasta!
What to serve with Chinese Steamed Fish
Although flavourful, this Chinese style steamed barramundi is also light so you can go two ways. Either stay on the delicate path or balance with a contrasting, stronger flavour.
For a more contrasting side, try the super flavourful Chinese broccoli with shiitake and oyster sauce or Chicken with Black Bean Sauce.
Or, if you don't want anything too overpowering, serve with a side that's also light. Good options are sauteed or steamed Asian greens or other vegetables such as broccolini, carrots and green beans. My 15 minute Tomato and Egg also make a great contender.
Either way, freshly steamed white rice is a must! Yes, brown rice has more fibre (healthier) and a nice nutty flavour but white rice will always have a vote from me.
Note, it is perfectly okay to eat the ginger and spring onion matchsticks along with the fish. However, be mindful that the ginger will be quite strong. It's main purpose is to add flavour to the fish and its sauce so very often you'll find you won't want to eat the ginger on its own. I rarely do.
Tips for making this dish perfect every time
Drizzle with oil, always. This will help coat the fish and retain its moisture.
Lightly season the fish with salt and shaoxing wine 10 minutes before steaming. This will allow some time for the seasoning to do its magic and help the fish to develop more flavour. The key here is lightly season as fish is delicate and soy sauce will be added just before steaming.
Only start steaming the fish (ie, add the plate of fish into the steamer) once the water is boiling. Always steam on high heat and ensure the lid is properly closed.
Steam for about 7 - 8 minutes. A general rule of thumb; if steaming a whole fish or thick fillets, start checking to see if the fish is cooked after 7 minutes of steaming. You'll find it's usually cooked to perfection by then. If not, check after every minute until it is. The worst thing is overcooking fish. It becomes tough and nobody likes tough fish.
You see that delicious sauces around the fish in the final dish? That's all the natural juices of the fish! It's basically super flavourful fish broth essence. Plus a little from the steam of course. That sauce is sooooo good! When eating, make sure to dip chunks of fish in that sauce for optimal eating experience 😉
Good to know (FAQs)
How do you tell if steamed fish is cooked?
There are a couple of ways to do it. The first method is the old school Chinese way (aka the way I was taught by my grandma). Poke the thickest part of the fish with a chopstick, all the way through. If you don't feel any resistance, then the fish is cooked. But this method works best with experience.

The second method is by using a fork and poke, at an angle, into the thickest part of the fish and twist slightly. If the flesh flakes off easily and the colour is solidly white and no longer translucent then the fish is cooked.
How long should I steam my fish?
Around 7 to 8 minutes! Do not steam over 8 minutes as that's when the fish starts to shrink and toughen up.
Can I use frozen fish with this recipe?
NO! You should only ever steam fish if it is fresh. Not even if it has been thawed. Frozen fish has a distinct 'fishy' smell to it and thus not suitable to be steamed. Steaming helps retain and brings out the integrity of the fish (or whatever you're cooking) and thus you want to use fresh.

If you've got frozen fish at home, opt for a more flavour enhancing cooking method such as pan-frying or searing. Get it nice and golden and add some garlic. This will help overcome the 'fishy' smell or fishy taste.
How do you cut spring onions for steamed fish?
Divide spring onions into managable lengths, about 10cm. Then, thinly slice along the length of the spring onion, horizontally. Finally, cut into shorter lengths, about 4cm.
Which is the best fish for steaming?
Barramundi! Otherwise, sea bass, cod, snapper or even salmon will work perfectly.
So after taking the shot above, I happily tipped that spoonful into my mouth. It was delicious. The fish was soft, silky and yummmm.
Leftovers/freezing
Fish never taste as good the next day. This Chinese steamed fish, even with all of its delicious ginger and spring onions flavouring makes no exception. Best cook just enough for the meal. If you must, consume within 3 days in the fridge. I'd say just finish it the very next day! Be warned, it will smell 'fishy', even more so if you reheat it.
Made this Chinese Steamed Fish with Ginger and Spring Onions recipe? Let me know your thoughts or questions by dropping a note in the comments section below! I'd love to hear from you 🙂
Happy cooking!
Gen
📖 Recipe
Chinese Steamed Fish with Ginger and Spring Onions
A fabulous and a very delicious way of eating fresh barramundi fish! This Chinese steamed fish is one that celebrates the freshness of fish and what better combination than the classic ginger and spring onions (scallions)!
Print
Pin
Rate
Ingredients
2

fillets

fresh white fish

~200g/7oz each (note 1)

2

spring onions/scallions

sliced into thin matchsticks

2½

cm

/1inch fresh ginger

sliced into thin matchsticks

2

tablespoon

oil

canola or sunflower

1

tablespoon

shaoxing wine

substitute: mirin or dry sherry

1

teaspoon

soy sauce

¼

teaspoon

salt

~4 small pinches
Instructions
Roughly separate the green and white parts of the thinly sliced spring onions/scallions matchsticks. Set aside. (note 2)
Marinate the fish fillets
With a sharp knife, gently make 2 - 3 slanted incisions into the flesh of the fish fillets. Skin side up, about ½cm/¼inch deep. Be careful not to slice all the way through. (note 3)

Lightly season the fish with salt, about a small pinch per side of each fillet. Gently rub fish fillets all over with the shaoxing wine. Place the fillets into the fridge to allow the seasoning to sip into the fish for about 10 minutes.
Steaming
Boil water in a deep pot for steaming over the stove.

Take the fish out of the fridge. Drizzle 1 tablespoon of oil all over the plate (that will be used to hold the fish when steaming), sprinkle half the ginger and half of the white parts of spring onions/scallions. Place fish on top of the ginger and spring onion bed, skin side up.

Drizzle soy sauce over the fish fillets and rub evenly.

Sprinkle the remaining ginger and white parts of spring onions over the fish fillets. Drizzle the remaining oil over the fish.

Place into steamer and steam on high heat for 7 minutes or until fish is cooked. (note 4)

To serve, top freshly steamed fish with green parts of spring onions/scallions and serve immediately.
Notes
Note 1. Types of fish to use any white fish works brilliantly with this dish. If you have access to, barramundi fish (aka Asian sea bass) is my favourite fish to use when steaming. It is silky, buttery, meaty and absolutely delicious when steamed. Other great types of fish to use are cod and snapper. 
The most important thing to remember when steaming fish is to use FRESH fish, not thawed. Steamed fish is a very delicate dish, in terms of flavour, so it is crucial to use the freshest fish you can find. To avoid the disappointment of a 'fishy' smell. If the fish is not fresh, best pick a different cooking method such as pan-frying. 
Note 2. White and green parts of spring onions/scallions White parts of spring onions have a stronger, sharper onion flavour compared to the green parts. Whereas the green parts of spring onions are lighter in flavour and thus is used as a vibrant garnish in this recipe. 
Note 3. Making incisions into the fish before steaming helps the fish cook evenly and speeds up the cooking process. A fillet of fish is rarely even in thickness. This step is even more important if you decide to steam a whole fish. 
Note 4. To test if a fish is cooked the old school way that I was taught by my grandma was to pierce the thickest part of the fish, all the way through, with a chopstick. If there is no resistance (unless you hit the bone, then move a little to the side), the fish is cooked. Another way is by using a fork. Poke the thickest part of the fish with a fork and twist it. If the fish flakes off easily then it is cooked. A visual test is if the fish is opaque white and no longer translucent, it is cooked. 
The nutritional values below are estimates and are calculated based on all the ingredients used to make this recipe whether they're fully consumed or not (eg the sauce).
Nutrition
Calories:
241
kcal
|
Carbohydrates:
15.3
g
|
Protein:
38.9
g
|
Fat:
2.3
g
|
Saturated Fat:
0.1
g
|
Sodium:
639
mg
|
Potassium:
114
mg
|
Sugar:
6.6
g
|
Calcium:
17
mg
|
Iron:
1
mg
More quick and easy Asian recipes