Panko chicken schnitzel! Such an awesome way of eating chicken and super easy to make too! The secret (not so secret since you know, it's in the recipe name) here is using panko, which is a Japanese style breadcrumb and let me tell you - light and crispy every time!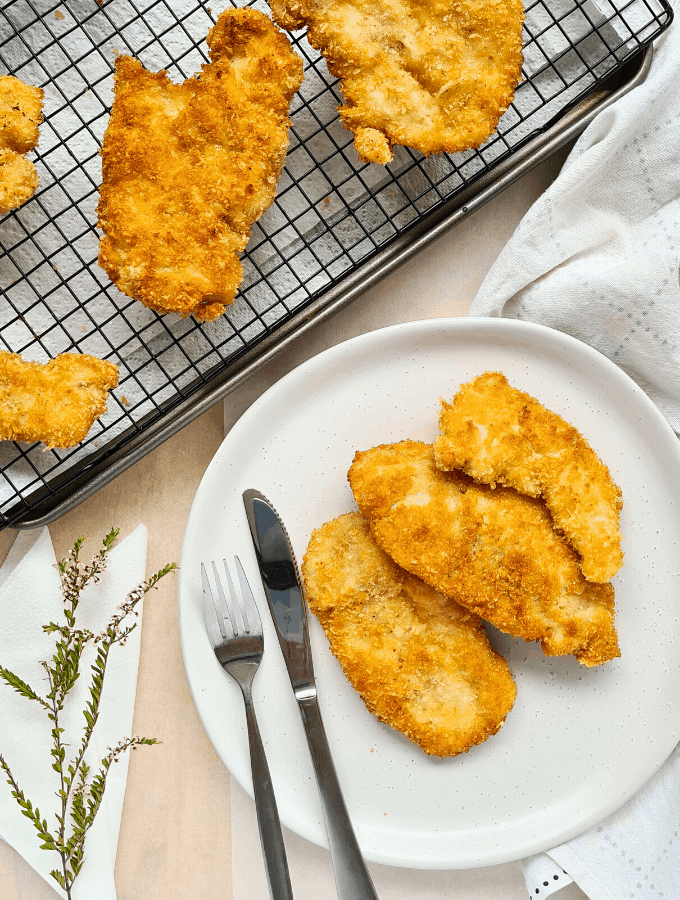 Jump to:
Normal breadcrumbs vs panko
Of course, you can use the normal breadcrumbs you find at the grocery stores (or if you're feeling 'chefy', make your own breadcrumbs) but I personally prefer using panko. Panko has a flakier consistency (which gives the beloved crunch factor) and is perfect for shallow/deep frying.
Panko is available at most Asian supermarkets and if you're downunder in Australia, Coles and Woolies now sell them too (Got mine from Coles the other day)! If you haven't used panko before, I urge you to give it a go!
Okay, now let's get started!
Ingredients
Frying oil use neutral-tasting oil such as sunflower oil or canola. Otherwise, olive oil is good to use too!
Chicken breasts where possible, use fresh chicken breasts as opposed to frozen-thawed. Fresh chicken is always juicier.
Panko breadcrumbs a must (Have I convinced you yet? 😉 )!
How to coat and fry panko chicken schnitzel
STEP 1. Slice (or pound) chicken breasts horizontally to about 1cm/half an inch. Like image #1 above.
STEP 2. Season with salt and pepper. Not only will this flavour the chicken, it'll also help make it juicier.
STEP 3. Very important: set up a station. This will make your life so much easier and the coating process nice and smooth. 1 bowl (or deep plate) for whisked eggs, 1 for panko and 1 for flour. Like image #3 above. Using a pair of tongs, coat 1 slice of chicken with flour, shake off excess then coat with whisked eggs, then finally, coat with panko. Make sure the entire chicken piece is completely covered each step of the way by the 3 different ingredients (flour, egg and panko).
STEP 4. Repeat for all chicken breast slices.
STEP 5. In a large skillet or a heavy-based frying pan, shallow fry the chicken pieces. Same as deep frying, don't overcrowd the pan as it'll cool the pan down. Resulting in not so crispy schnitzel (chicken will start to release juices). You want the chicken to have wiggle room like images #5 and #6 above.
STEP 6. Fry on medium heat until golden, flipping once ONLY! Take a peek by lifting a piece and if frying side is golden, you know it's good for flipping!
Important shallow frying tips
Make sure the oil is hot enough. Test by dropping a small pinch of panko breadcrumbs into the pan and if it sizzles then the oil is ready for frying.
Use just enough oil. A general rule of thumb, you want enough oil to reach about half the thickness of a schnitzel. Too much oil will risk schnitzel getting too oily.
Flip the schnitzel once only (or max twice)! If you mess with the chicken too much whilst it is frying, it'll start to release its juices. This will not only cool the pan down (hello oily stewed schnitzel), the oil will start spitting everywhere. AND the chicken will lose it's juicy factor!
Do not overcrowd the pan.
Once cooked, let it rest on a cooling rack with kitchen paper lined below the rack (to catch dripping oil). Like image above.
How do you know when chicken schnitzel is cooked?
By slicing the chicken breasts to about 1cm/half an inch, they pretty much are cooked once both sides turn golden on medium heat. Otherwise, test a piece by cutting the panko chicken schnitzel and if the flesh is white (and not pink) then it's done.
On the flip side - make sure you keep both eyes on the chicken. Over frying will dry the chicken out!
See how crispy and flaky the coating is? So good!
Serving suggestions
I like to keep it simple when serving chicken schnitzel. On its own or with a little freshly grated parmesan cheese, squeeze of fresh lemon juice and a side of simple salad. And because the schnitzel is cooked to perfection (flipping it once), it is proper juicy on the inside!
But not everyone's like me. You can serve with your favourite sauce - tomato sauce/ketchup, BBQ sauce, thick gravy, creamy mushroom sauce, creamy lemon sauce, creamy mustard sauce or just creamy anything is generally a good idea!
Make it into a sandwich with some shredded lettuce and spicy mayonnaise.. Pimp it right up and make it into chicken parmigiana. There are just so many ways to serve a good schnitty!
Thank you for checking out my recipes! Let me know what you think and/or if you have any questions, drop me a note in the comments section below. 🙂
Happy cooking!
Gen
📖 Recipe
Panko chicken schnitzel
Crispy and juicy chicken schnitzel coated in panko breadcrumbs is absolutely delicious! If you have not used panko before, now is the time!
Print
Pin
Rate
Ingredients
2

large

chicken breasts

about 420g/16oz

2

eggs

whisked

1½

cup

panko breadcrumbs

normal breadcrumbs are okay too

½

cup

plain flour

frying oil

canola, sunflower or olive oil are all okay

salt and pepper
Instructions
Slice chicken breasts horizontally (or pound) to about 1cm/½inch thick.

Season chicken with salt and pepper.

Pour enough oil (for shallow frying) into a skillet or heavy-based frying pan. Preheat the oil on medium heat. (Note 1)

Set up a coating station - 1 bowl (or deep plate) for the eggs, 1 bowl for the panko and 1 bowl for the flour.

Using a pair of tongs, coat a slice of chicken breast with flour. Shake off excess flour then dip and coat with whisked eggs. Finally, coat with panko breadcrumbs. Make sure the entire piece of chicken is completely coated by all 3 ingredients (flour, egg and panko breadcrumbs) each step of the way.

Repeat for all chicken slices.

Shallow fry coated chicken pieces in 2 batches, on medium heat. Flipping only once.

Once both sides are golden, the chicken should be done. Test by cutting a piece if not sure. If the flesh is white then it's ready.

Rest panko chicken schnitzel pieces on a cooling rack for 5 minutes before serving.
Notes
Note 1. Oil for shallow frying the amount of oil required is dependent on the size of your frying pan. I used a 30cm/12inch frying pan and 1 cup of oil was sufficient for both batches. If doubling portion size then top the frying pan up with more oil after the second batch. Remember to allow time for the oil to heat up before frying third batch. Oil is hot enough when breadcrumb sizzles when dropped in oil.
Nutritional info is for 1 serving. 
Nutrition
Calories:
571
kcal
|
Carbohydrates:
22.7
g
|
Protein:
45.5
g
|
Fat:
32.2
g
|
Saturated Fat:
5.2
g
|
Cholesterol:
179
mg
|
Potassium:
45.4
mg
|
Fiber:
1
g
|
Sugar:
0.8
g
|
Calcium:
70
mg
|
Iron:
3
mg