Here is a simple weeknight-friendly, hearty and creamy chicken and mushroom pie using puff pastry! The perfect pie to make when you don't have the time to roll out the pastry from scratch.
After posting my Chicken and Leek Pie recipe, I felt the need to share this version for lovers of the classic chicken and mushroom combo!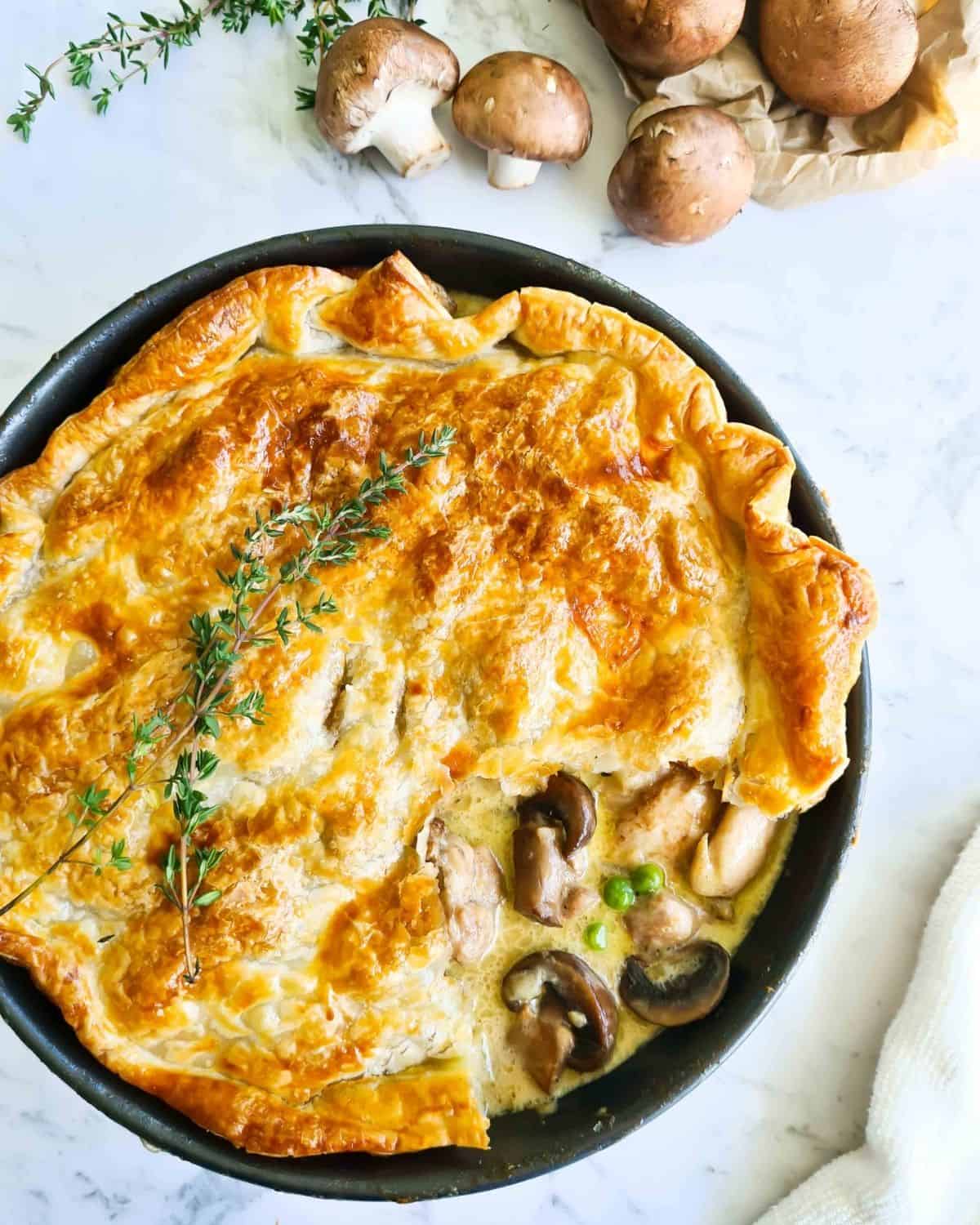 On the hunt for comfort food recipes? Check out my Creamy Mushroom Sauce that goes pretty much anything from peppery steaks to plain pasta!
For a low carb alternative, give this Chicken with Cream Mushrooms recipe a go!
Jump to:
Ingredients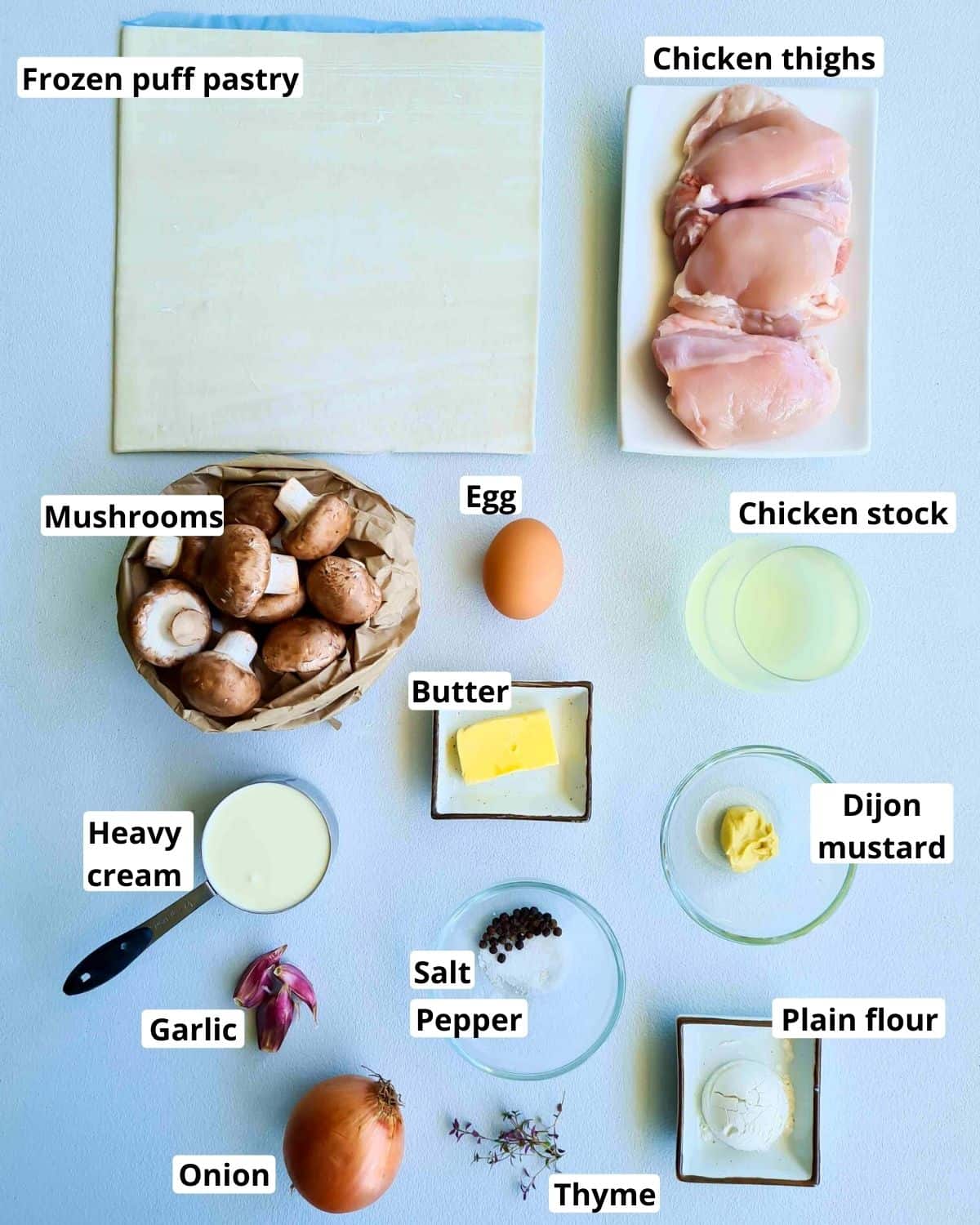 Mushrooms I love using brown mushrooms as they taste nuttier compared to white mushrooms. Nonetheless, both are perfect to use in this recipe. Feeling adventurous? mix things up by using a variety of mushrooms for a more complex flavour profile. Think shiitake, oyster, porcini, wild mushrooms, flat mushrooms etc.
Chicken thighs can be substituted with chicken breasts. However, since chicken breasts are not as forgiving as thighs, they tend to come up a little dry. The taste will still be the same though!
Unsalted butter is used because this is a hearty comfort meal! Can use olive oil instead.
Plain flour is used to help thicken the creamy sauce. Can use cornstarch and water mixture instead.
Heavy cream (aka thickened cream). Light cream is not recommended as it can make the creamy sauce a little too runny.
Step by step instructions
I love making pot pies with ready-made puff pastries. The results are delicious and impressive-looking without much effort. The flaky, multi-layered crust is just perfect with the creamy chicken and mushroom pie filling.
To make this chicken and mushroom pie, simply saute the mushrooms, chicken, onions and garlic then add in seasoning, stock and cream. Turn the heat off, mix in peas then transfer the creamy pie filling into a pie dish. Cover with a just thawed puff pastry, loosely tucking the sides in (like collage image #5 above).
Bake for 25 minutes and that's it! That's not so bad is it? Making homemade pies at home is a lot easier than you might think!
Tips for making this recipe perfect every time
Use JUST thawed puff pastry. As in it's no longer icy hard but still quite cold. If the puff pastry has been thawed to room temperature, it'll become super soft and almost 'melt' a little by the time you use it to cover the pie (filled with pipping hot filling). Making it much harder to handle. So only take it out of the freezer about 10 minutes before you're ready to bake!
Th key to browning and getting a nice golden colour on the mushrooms and chicken is not flipping it much in the pan! Spread them out, turning every minute or so only.

Sauteeing mushrooms. By leaving them undisturbed for a whole minute allows the moisture released to be evaporated and thus sizzling the mushroom flesh. This is how they get golden.
Sauteeing chicken. Cooking on high heat and allowing the chicken to brown and turn golden before flipping helps seals the chicken and therefore keeping all the juices inside.

Taste and adjust for salt and pepper just before transferring the pie filling into a pie dish. Important for cooking in general! Always taste throughout the cooking process to ensure proper seasoning!
Gently and loosely tuck the excess puff pastry dough into the rims of the pie dish. Allowing much of it to sit on the edges of the pie dish as opposed tucked into the pie fillling. This will ensure the edges puff up nicely.
Good to know (FAQs)
How do I make my pot pie broth/sauce thicker?
To further thicken the filling sauce, mix a little cornstarch with cold water and add it to the pan. Add a little at a time until the desired consistency is reached.
What is a good side dish to go with this chicken and mushroom pie?
A simple salad like rocket leaves, baby spinach and apple slices drizzled with a balsamic vinaigrette (head on over to my Pumpkin Salad for an easy balsamic vinaigrette recipe) would be perfect! Otherwise, serve with some oven-baked sweet potato fries!
Made this recipe? Let me know your thoughts or questions by dropping a note in the comments section below! I'd love to hear from you 🙂
Happy cooking! - Gen
Video
📖 Recipe
Chicken and Mushroom Pie
Here is a simple weeknight-friendly, hearty and creamy chicken and mushroom pie using puff pastry! The perfect pie to make when you don't have the time to roll out the pastry from scratch. Makes 4 generous portions.
Print
Pin
Rate
Ingredients
1

sheet

frozen puff pastry

just thawed (note 1)

1

egg

whisked (egg wash)
Pie filling
750

grams

/1.5 pounds boneless, skinless chicken thighs

about 5 large, cut into bite-size pieces

300

grams

/10 ounces mushrooms

any, thickly sliced

1

cup

frozen peas

½

cup

chicken stock

½

cup

heavy cream

or thickened cream

1

onion

finely diced

3

cloves

garlic

minced

2

sprigs

fresh thyme

or ½ teaspoon of dried thyme

1

teaspoon

dijon mustard

1

tablespoon

plain flour

2

tablespoon

unsalted butter

or olive oil

salt and pepper
Instructions
Preheat oven to 220°C/430°F (200°/390°F fan-forced).

In a large frypan, saute mushrooms with 1 tablespoon of butter on medium-high heat. Once mushrooms have turned golden brown and nutty (after about 7 minutes), add the remaining tablespoon of butter, garlic and onions. Cook for a further minute.

Push the vegetables to the rims of the pan to make room for chicken. Add chicken into the pan, season with salt and pepper. Seal and brown the chicken for about 2 minutes, turning once.

Add and stir through dijon mustard and flour. Add chicken stock and stir until sauce thickens and there are no flour lumps. About 2 minutes.

Reduce the heat to low. Add fresh thyme leaves (discard the woody stems) and heavy cream. Stir through, taste and adjust for salt and pepper.

Turn the heat off, mix in frozen peas. ¼

Transfer pie filling into a pie dish (I used a 24cm/8inch round pie dish). Cover the pie dish with just thawed puff pastry and loosely tuck in the sides.

Brush egg wash all over the puff pastry. With a sharp knife, pierce an 'X' in the centre of the pie to allow steam to escape when baking.

Bake on the middle shelf for 25 minutes or until golden.
Notes
Note 1. Just thawed puff pastry. Puff pastries defrosted to room temperature become very soft and harder to handle. This becomes even more so when topped onto a pie dish filled with piping hot filling. I find the pastry dough starts to almost 'melt' and is very difficult to use. Best take the puff pastry out of the freezer about 10 minutes before ready to make. By then the dough will be defrosted yet very cold to touch.  Note 2. If you're finding the filling creamy broth is a little runny for your liking at this point, mix 1 tablespoon of cornstarch with a quarter cup of cold water. Mix well, until cornstarch is dissolved. Pour half of this mixture into the pan and mix. It'll thicken almost instantly. Add more mixture as required to reach the desired consistency.  Get adventurous and mix up the mushrooms! If you're feeling up to it, use a variety of mushrooms for a more complex flavour profile. Think shiitake, porcini, wild mushrooms, oyster mushrooms, large flat mushrooms etc.
Nutrition
Calories:
516
kcal
|
Carbohydrates:
30.3
g
|
Protein:
41.6
g
|
Fat:
28.1
g
|
Saturated Fat:
9.7
g
|
Cholesterol:
170
mg
|
Potassium:
351
mg
|
Fiber:
3.7
g
|
Sugar:
4.5
g
|
Calcium:
35
mg
|
Iron:
5
mg
More hearty winter recipes