There are days when you just want creamy, carby, comfort food but alas! Need to watch the calories because you're responsible and keeping track to make sure you don't go over your daily intake. Hear me out - it's possible to have it all. This super yum creamy mushroom pasta recipe has all the creaminess that you love WITHOUT any cream added.
Sounds good? I bet.
Jump to:
Swap cream with milk!
How do you make a creamy mushroom sauce without cream you ask. The secret: bechamel sauce. You know that lovely, thick, creamy top layer of a lasagne? Use that!
Basic bechamel sauce (aka white sauce)
Really simple, bechamel sauce is made of butter, milk, flour, salt and pepper. You can jazz it up by adding some nutmeg if you're in the mood.
By simply swapping out the cream with a healthier option - bechamel sauce, you've got a healthier, lower in calories yet delicious creamy mushroom pasta!
Ingredients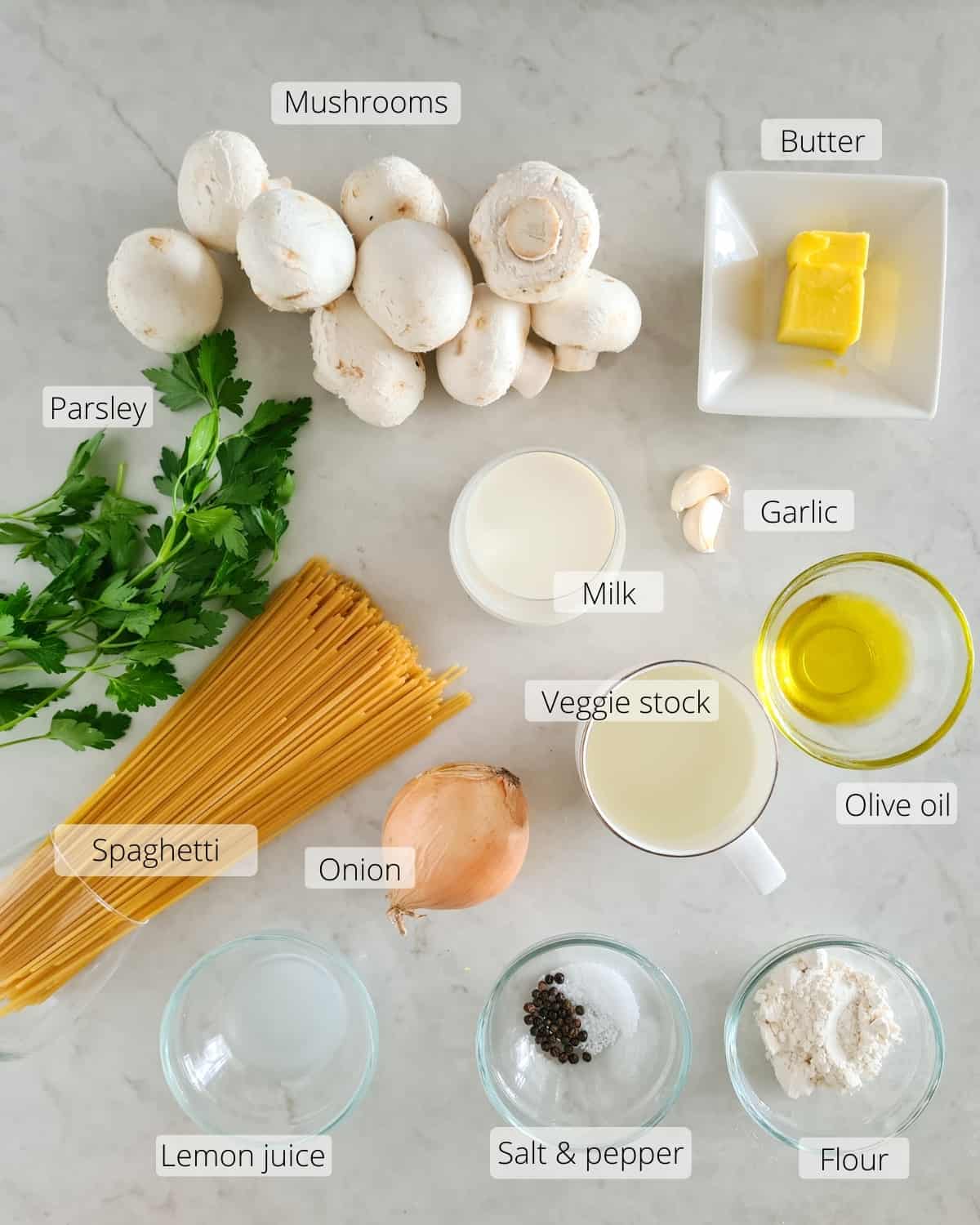 Lemon juice for this recipe is super important. It'll add a lemony tang to the pasta, works perfectly with the creaminess of this mushroom sauce. Honestly, without a squeeze or two of lemon juice, this pasta will be pretty flat.
Parsley adds freshness to the pasta and a lovely aroma too. Definitely use fresh parsley here - not the dried stuff.
Veggie stock can substitute for chicken stock if you're following a vegetarian diet. This will just help the mushrooms out and add more flavour into the dish.
Milk you're already being mindful by swapping cream out with milk, use full cream milk/whole milk.
Mushrooms I prefer using brown/swish mushrooms as I find they have more flavour than white button mushrooms. However when I went shopping for this recipe, white mushrooms were on sale.. I had to!
Step by step instructions
There are roughly two parts to this.
Get as much flavour onto the mushrooms as possible
Here is an important tip.
You want to really add a good colour on the mushrooms first. Colour means flavour. Which means flavourful mushrooms. Get it nice and golden brown by cooking on high heat. Stirring every minute or 2, this part will take about 5 or 6 minutes.
Once the mushrooms look like above image #4, remove from pan and set aside.
Making the bechamel sauce (white sauce)
Once the butter has melted and flour mixed in, make sure to slowly incorporate the milk in. Stirring constantly, add a little milk in at a time. Best use a whisk for this step or at least get the whisk out for any stubborn lumpy bits that just won't go away.
Once the sauce is smooth, let it simmer for a minute before mixing in the sauteed mushrooms, stock and seasoning (salt and pepper).
Creamy alfredo sauce?
If you want, mix in some grated parmesan or cheddar cheese at this stage. This will then be an alfredo sauce. But be mindful.. if you add a lot then it defeats the purpose of making the healthy version of a creamy mushroom pasta. Heck, just an option if you decide to opt-out half-way through cooking.
No! you're committed to a healthy pasta today. Stick to it. Only a little freshly grated parmesan to serve.
Look at how creamy it is and it's all possible with some milk, flour and butter!
Don't worry, you don't need much butter at all to make a delicious bechamel sauce (white sauce).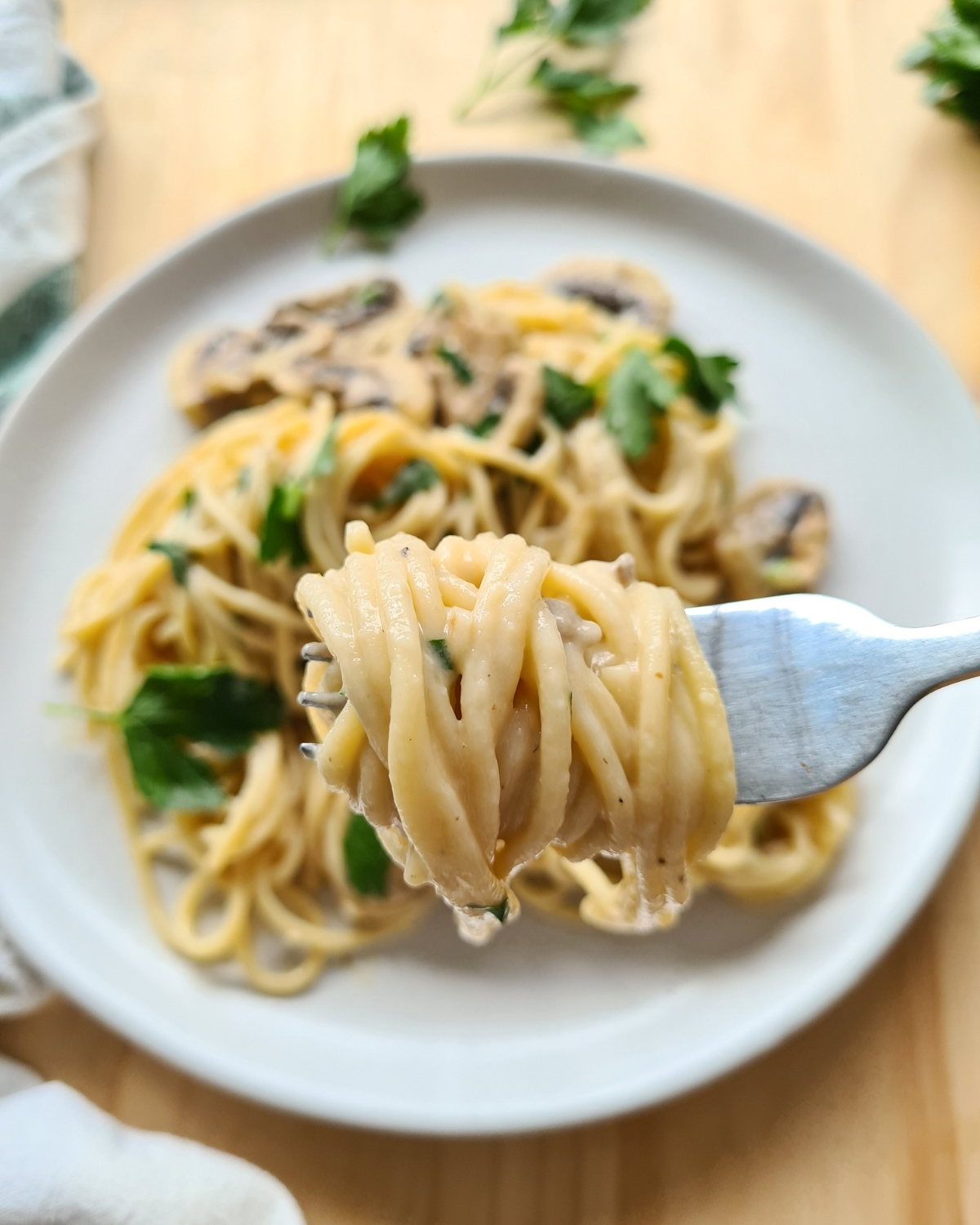 I used spaghetti to go with this healthy creamy mushroom sauce but feel free to have a bit of fun and use other shapes such as penne, fettuccine or if you dare.. macaroni pasta.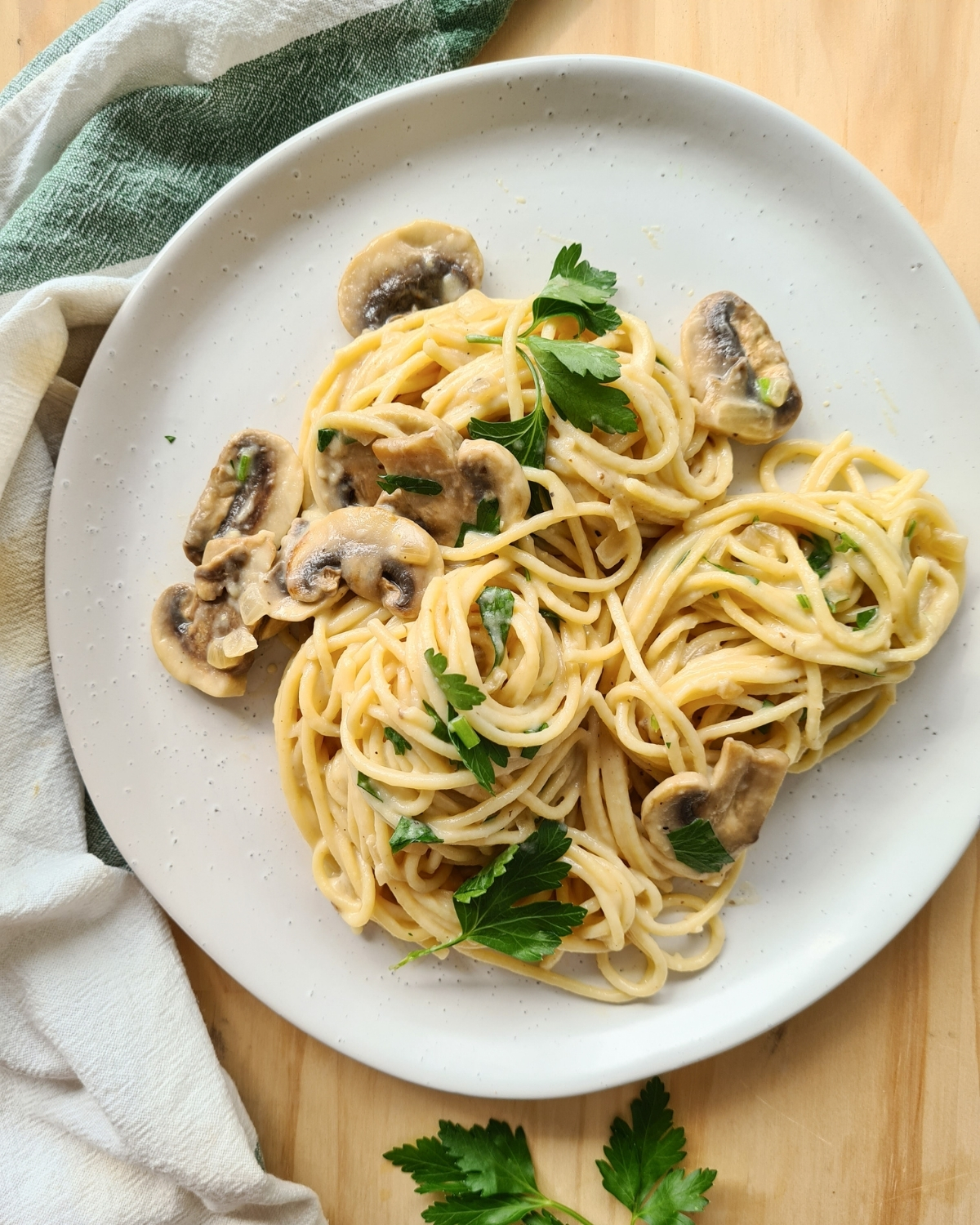 Variations
Add some rotisserie chicken breasts for a more balanced meal - more protein and fewer carbs.
Mix in some spinach leaves to add some greens in your meal if you can't be bothered to make a side of salad.
Try this recipe with a mix of different mushroom varieties! Such as oyster, porcini, shimeji, enoki, etc. The flavours will be even better!
Other delicious healthy pasta recipes you might like
Thank you for checking out my recipes! Let me know what you think and/or if you have any questions, drop me a note in the comments section below. 🙂
Happy cooking!
📖 Recipe
Creamy mushroom pasta (healthy!)
Delicious creamy mushroom pasta recipe with all the creaminess that you love WITHOUT any cream added!
Print
Pin
Rate
Ingredients
400

g

/14 oz swiss/brown mushrooms

button mushrooms, thickly sliced

400

g

/14 oz dried spaghetti

or your choice of pasta shape

1

brown onion

finely diced

2

cloves

garlic

minced

2

tablespoon

olive oil

2

tablespoon

lemon juice

or juice of 1 lemon (note 1)

½

cup

fresh parsley

finely sliced (note 2)

salt and pepper

to taste
Bechamel sauce w/ veggie stock
2

cups

milk

1

cup

vegetable stock

or chicken stock

2

tablespoon

plain flour

50

g

/2oz butter

or 4 tablespoon butter
To serve (optional)
Freshly grated parmesan cheese
Instructions
Cook pasta according to packet instructions. Reserve ½ cup of pasta cooking water. Make sure to salt the pasta cooking water, about 1 - 2 tbsp.

In a large skillet/pan, cook onions until lightly golden and soft. On medium heat for about 5 minutes.

Add minced garlic and stir through for 30 seconds or until garlic is fragrant.

Add sliced mushrooms and turn the heat to high. Cook mushrooms until golden brown. This will take about 5 - 6 minutes. Remove and set aside. (note 3)

Same pan, melt butter on low heat then stir in flour.

Once flour and butter have comebined, slowly pour in milk. Stiring constantly. Best use a whisk at this stage. The sauce should be quite thick.

Now, slowly pour in vegetable stock as you whisk the sauce. The stock will loosen the sauce up into a smooth creamy sauce. Allow sauce to simmer for 1 minute.

Add sauteed mushrooms, lemon juice, salt and pepper. Mix thoroughly. Continue to cook on low heat. Taste the sauce and adjust for seasoning.

Mix in cooked pasta and fresh parsley. Thoroughly mix the sauce into the pasta, for about 2 minutes. If the sauce needs loosening, mix in some of the reserved pasta cooking water.

Optional (but highly recommended): serve with freshly grated parmesan cheese.
Notes
Note 1. Lemon juice will add a lemony tang to the pasta and lift the dish up. Without lemon juice here, the pasta will taste quite flat. Just before serving, taste the pasta a little and add more lemon juice if desired.
Note 2. Fresh parsley is a non-negotiable. Stay away from dried parsley for this recipe as we want the parsley to add freshness to the pasta.  
Note 3. Browning the mushrooms will add flavour into the overall dish. The more colour (without burning of course), the mushroom gets from cooking in high heat, the more flavour it'll develop. Tip: do not constantly stir the mushrooms. Only stir every 1 - 2 minutes. Leaving mushrooms undisturbed on a hot pan draws out the moisture which then evaporates and only then browning begins. The more mushrooms there are in a pan, the longer it takes for the browning process to begin. This recipe calls for 400g / 14oz of mushrooms so give time before stirring. 
Note 3. Leftovers this will keep well in the fridge for 3 - 5 days in an airtight container. Up to 2 months in the freezer. 
Nutrition
Calories:
380
kcal
|
Carbohydrates:
48.3
g
|
Protein:
12.3
g
|
Fat:
16.9
g
|
Saturated Fat:
7.6
g
|
Cholesterol:
28
mg
|
Potassium:
214
mg
|
Fiber:
1.4
g
|
Sugar:
5.6
g
|
Calcium:
117
mg
|
Iron:
3
mg