In addition to that welcoming heat, Sichuan chilli oil is heavenly aromatic and actually very easy to make at home. The oils are infused with a combination of Chinese spices before being poured over dried chillis at a high temperature. Effectively delicately toasting the chillis without burning them (which can turn dark and bitter).
A staple condiment throughout China, particularly the Sichuan province, chilli oil brings life into countless dishes. In fact, if you're wondering if a dish will benefit from a little (or a lot) of these fragrant oils, the answer is most likely yes. A bit of heat is always a good idea!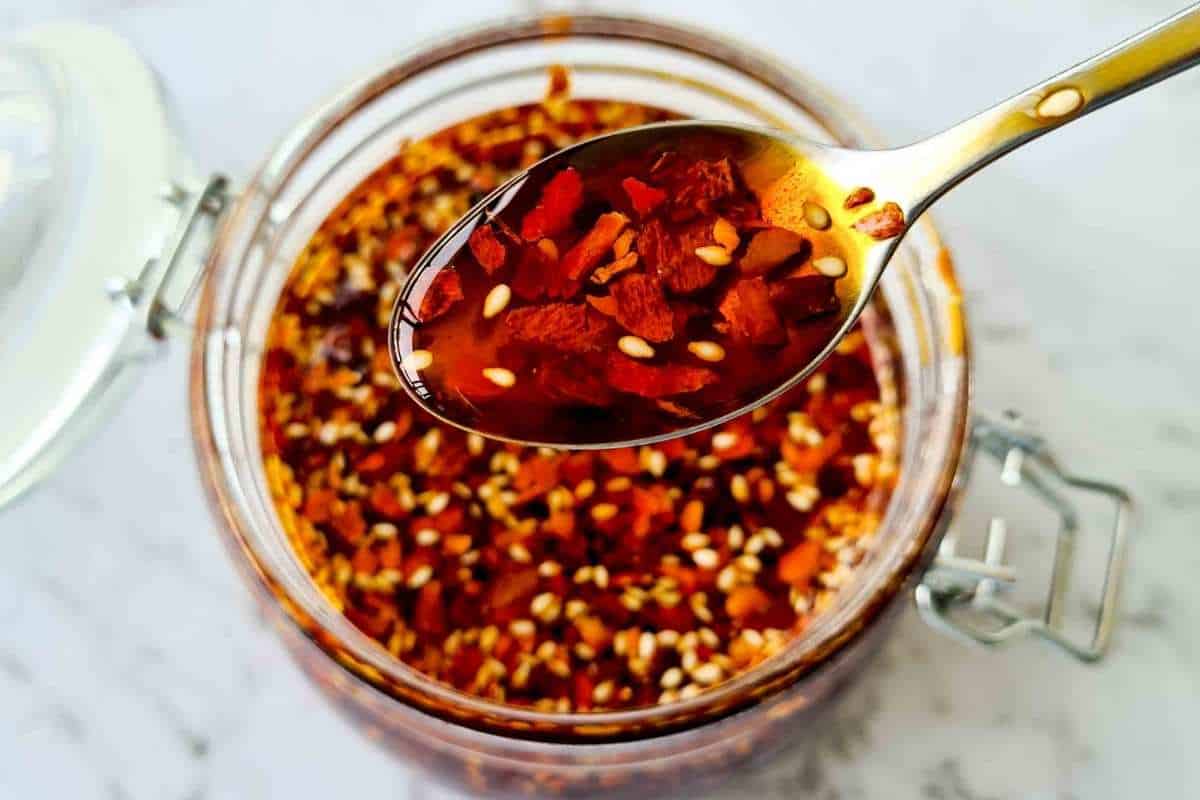 There are endless variations to making chilli oils, largely depending on personal taste and preferences. This recipe is a well-rounded one that is not too hot but definitely enough to feel the heat from the chillis and that gentle numbing sensation from Sichuan peppercorns.
Jump to:
Ingredients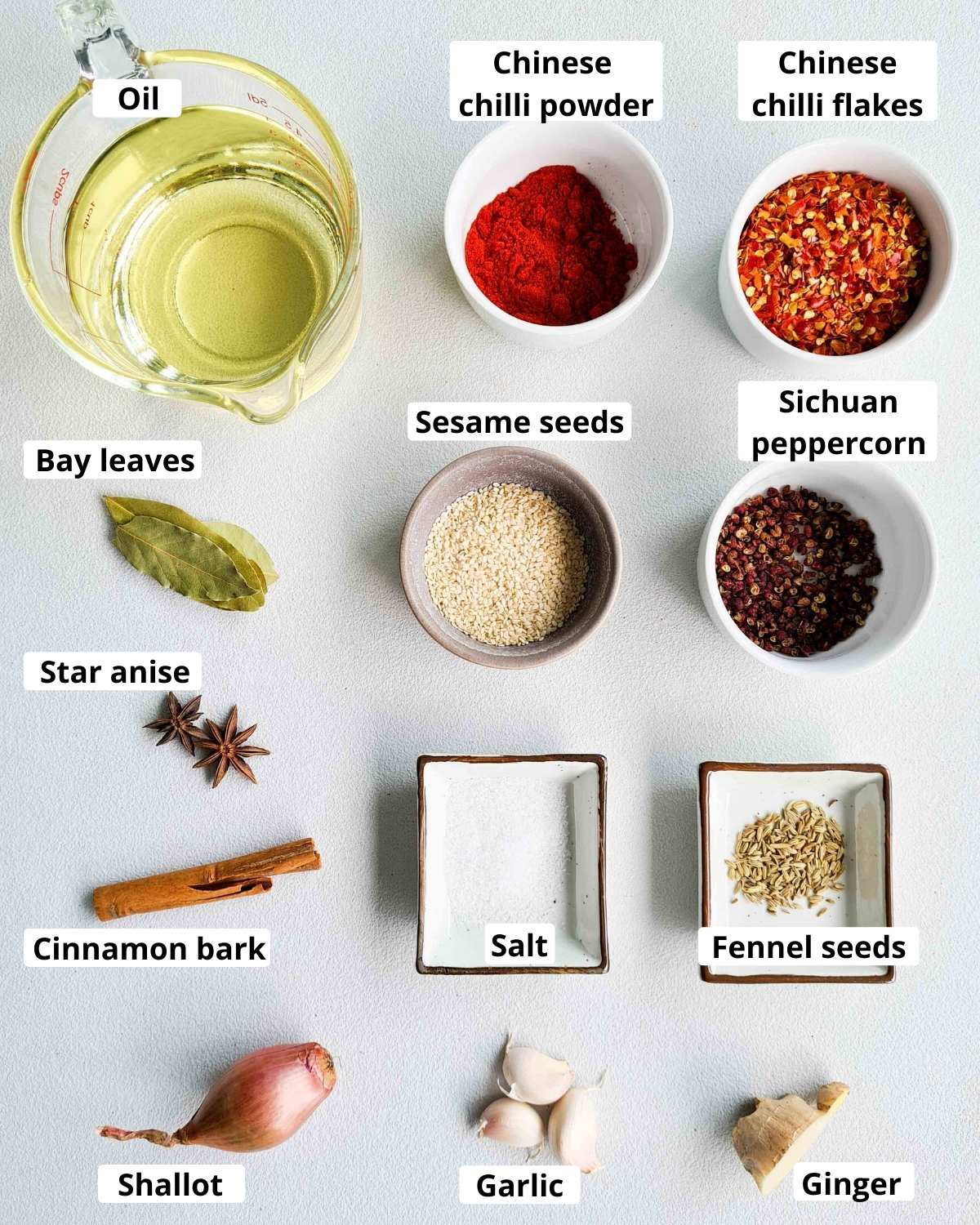 Neutral tasting oil is the perfect oil with high smoke point to use when the goal is to infuse it with aromatics. Examples include sunflower oil, vegetable oil, canola oil and grapeseed oil. You can use peanut oil if desired. This is the only exception I can recommend. Do not use olive oil.
Chinese chilli powder and chilli flakes. See below.
Sichuan peppercorns have a 'mala' flavour which just means numb-spiciness. Unlike hot chillies, Sichuan peppers add a tingling, numbing sensation to the mouth. It's awesome. If you've had Chinese hot pot (with the spicy soup base) before, you'll know what I mean.
Other spices to add include cinnamon bark, fennel seeds, star anise and bay leaves. You can also add cardamon pods if you've got some at home.
Shallots can be substituted with spring onions (aka scallions).
Stuff you'll need from an Asian Supermarket
To make this recipe, there are a few ingredients you most likely will not be able to find at your local supermarkets. These are Chinese chilli flakes, Chinese chilli powder and Sichuan peppercorns.
Let's talk a bit more about the dried chillis and cinnamon bark.
The ideal chilli flakes and powder to use for making the most authentic Chinese chilli oil is to use Sichuan chilli. This differs from the usual generic dried chillis you can get from your local supermarket (such as the Italian style) as Sichuan dried chillis are fried before being ground to flakes and powders. Or left as a whole. This not only enhances the flavour, bringing out that nutty profile of the chillis, it also helps richen the colour red without any additives.
Having said this. I'm based in Sydney and the kind of chilli flakes and powders I can get my hands on at any Asian supermarkets I've been to are the ones you can see below. I've not been able to find chillis with 'Sichuan' specifically mentioned the packaging so I just use what I have available.
And you know what? The result is pretty damn fantastic! Are these already the Sichuan style chillis? I don't know but they might as well be.
Cassia vs Ceylon cinnamon
The second ingredient to talk about is the type of cinnamon bark to use here. Did you know there are two types of cinnamon out there? Ceylon and cassia cinnamons (aka Chinese cinnamon as it is native to China). The latter is the more commonly used and the one you want for this recipe (and in all Chinese cooking). Cassia cinnamon is milder in flavour compared to the more flavour superior Ceylon cinnamon (Native to Sri Lanka).
A very easy way to tell between the two varieties is that Ceylon cinnamon sticks have lots of thin layers and can easily be crushed into powder with a grinder. This is the expensive stuff so save it for dessert making. Since the flavour is much richer, it is not suitable for this recipe as we want a more mild cinnamon flavour infused in the oil.
The cinnamon sold at your local supermarket is almost always the cassia variety. However, I find it's always much cheaper if you buy from Asian supermarkets. So get your cinnamon sticks there!
3 easy steps to homemade chilli oil
Making an authentic Sichuan chilli oil is actually super simple and easy. Just not as easy as getting Lao Gan Ma's chilli oil from store shelves! Although, definitely worth the trouble of getting all the ingredients and making this at home. Because homemade is always better better than store bought!
Before you begin, make sure to always use clean utensils that are completely dry. Hot oil and water do not go well together!
First, fry the aromatics in oil on medium heat in a small saucepan. Turn the heat off once the garlic, ginger and shallots are golden. This will take about 10 minutes or so. Then, the most important part, let the oil infuse for at least 1 hour (up to overnight).
The longer the oil is infused in the aromatics, the stronger the flavour.
Now combine and mix chilli flakes, chilli powder and toasted sesame seeds in a large, heatproof bowl.
Reheat the oil until nice and hot, increased to high heat. The key is to wait until the oil begin fizzing vigorously. If you like working with a thermometer, aim for about 110°C/230°F. If you're like me who cooks by sight, the oil is hot enough when the garlic/shallot's golden colour begins to deepen even further.
With one hand holding onto a sieve over the bowl of chillies, carefully pour the hot oil into the bowl. You know it's a success when the chillis immediately start to bubble vigorously like so in the image above. That's when you know: success!
At this point, your kitchen will be smelling soooo good! Nutty, aromatic, warm and omg, need to have these with dumplings NOW!
To finish up, season with some salt and get a spoon to stir the oil. Salt will help further enhance the flavours of the spices.
To store, let the infused oil cool down to room temperature before scooping in small batches into an airtight glass jar.
How do you use Sichuan chilli oil
There are no rules here. Endless possibilities. You can add this to anything you want, use it whilst cooking or make a chilli oil sauce. Just whatever your tastebuds desire really. Nonetheless, here are some ideas to get you started:
Some popular, authentic Chinese dishes that use chilli oils that I can think of are dan dan noodles, mapo tofu, saliva chicken (a better translation is 'mouthwatering chicken') and four seasons string beans. Guess what? All originated in the Sichuan province of China. Thank you, Sichuan for blessing us with your spicy foods!
Eventually, I'll make recipes for the above dishes mentioned. Hang with me!
Variations
Now that you've learnt the basics, time to make things interesting. Below are a couple of variations that are definitely worth trying out.
Add fermented salted black beans!!! If you've come across my Chicken with Black Bean Sauce or the beef variation recipes, you'll know we're not talking about the black beans that go into your burrito! Salted black beans are actually fermented black soybeans and provide a TON of umami goodness. To get the most out of this ingredient, there is one extra small step to take. Once the oil has been infused with the spices for at least 1 hour, strain the oil into an empty bowl (or better, a saucepan). Reheat the strained oil with 1 tablespoon of roughly chopped salted black beans then pour straight over dried chillis.
Leave the garlic in. For garlic lovers, here is one for you. Don't add garlic when infusing the oil. Similar to above, strain the oil once infused then reheat the oil and this time, add finely chopped garlic into the hot oil. Allow it to sizzle to golden then pour straight over the chillis. Now you've got garlic chilli oil! Absolutely delicious.
Love that 'mala' flavour? Add a teaspoon or two of the Sichuan peppercorns into the spiced oil jar for a stronger tingling numbing sensation.
Want more heat? Add more chilli powder to suit your tastebuds!
As you can see from the above picture, the oil turns into a deep red colour due to the chilli powder.
Good to know (FAQs)
What is the best way to store chilli oil?
In a glass jar that you can close tightly! Like the picture above.
How long does homemade chilli oil last?
Up to 6 months is a safe timeframe. This is because fresh garlic, ginger and shallots were infused in the oil.
Does homemade chilli oil have to be stored in the fridge?
Yes! Same reason as above, due to the use of fresh garlic, ginger and shallots.
What is the secret to making delicious Chinese hot chili oil?
Infuse the hot oil in aromatics for at least 1 hour, even better, overnight. This allows time for the the oil to become super fragrant.
Can you use chilli oil to cook?
Absolutely! Use this oil to cook eggs, vegetables, meats and etc. Examples of ueses in cooking is above!
That's it from me! Hope you enjoy this recipe as much as I do.
Made this recipe? Let me know your thoughts or questions by dropping a note in the comments section below! I'd love to hear from you 🙂
Happy cooking! - Gen
Video
📖 Recipe
How To Make Sichuan Chilli Oil
Aside from that welcoming heat, Sichuan chilli oil is extremely aromatic and actually very easy to make at home. The oils are infused with a combination of Chinese spices before being poured over dried chillis at a high temperature. Effectively delicately toasting the chillis without burning them (which can turn dark and bitter).
Print
Pin
Rate
Ingredients
Spice Infused Oil
2

star anise

1

stick

cinnamon bark

cinnamon cassia (note 1)

4

dried bay leaves

1

tablespoon

Sichuan peppercorn

(note 2)

½

teaspoon

fennel seeds

2

bulbs

shallots

peeled, whole or halved

3

cloves

garlic

peeled

1

knob

ginger

about 2.5cm/1inch piece, sliced

2

cups

neutral-tasting oil

eg. sunflower or grapeseed
Homemade Chilli Oil
spice infused oil

(above)

½

cup

Chinese dried chilli flakes

(note 2)

1

tablespoon

Chinese chilli powder

(note 2)

1

tablespoon

sesame seeds

1

teaspoon

salt
Instructions
To infuse the oil, combine all ingredients into a small saucepan on medium-low heat.

Let the oil sizzle for 10 minutes or until ginger, garlic and shallots have turned golden (do not let it burn!). Turn the heat off and allow the oil to infuse in the saucepan for about 1 hour, overnight for more intense flavoured oil.

When ready to make the chilli oil, combine chilli flakes, chilli powder and sesame seeds into a large heatproof bowl. Set aside.

Reheat the oil in the saucepan on medium-high heat until the oil is hot but not at smoking point. You should see and hear the garlic/shallots/ginger sizzle vigorously.

Carefully, with a sieve over the bowl of dried chillis, pour the hot oil into the bowl. Discard the strained spices.

Stir through with a spoon and season with salt.

Can be used immediately. Store in a clean glass jar and use whenever you want!
Notes
1. Cinnamon bark. Make sure to use the cassia variety and not the Ceylon variety which is stronger in flavour. Subtle cinnamon flavour is what is ideal for this recipe, and all Chinese dishes. 
2. Sichuan peppercorns, Chinese chilli flakes and chilli powder can be found at most Asian supermarkets. If you're in Sydney like me, you most likely will not find Chinese chilli flakes and powders with 'Sichuan' style printed on the packaging (Sichuan chilli is preferred). Sichuan chilli flakes and powders just mean they have been fried in oil then ground into flakes and powders. Frying enhances the flavours and colour of the chillis. Don't worry, the chilli flakes and powders I used (pictured above in post), which was purchased at my local Asian supermarket is good enough to use!
How to use chilli oil: There are no rules here. Endless possibilities. You can add chilli oil to anything you want. Just whatever your tastebuds desire really. Here are some ideas to get you started:
Variations - I've got a few delicious recommendations in the post above. 
Storage. Store in airtight glass jars in the fridge. Lasts up to 6 months. 
Nutritional value below is for the entire jar!
Nutrition
Calories:
4320
kcal
|
Carbohydrates:
29
g
|
Protein:
7.6
g
|
Fat:
472
g
|
Saturated Fat:
60
g
|
Sodium:
2326
mg
|
Fiber:
18.1
g
More delicious Chinese recipes