Spaghetti carbonara with a twist! Swap the bacon out with the savoury, creamy halloumi and you've got yourself a silky halloumi carbonara. That tastes sooo good! Meatless Monday meal, tick.
If you've made a carbonara before, you know it's the ultimate quick and easy comfort food. This version? Nothing short of that. Get a good colour on the halloumi and you've got yourself a budget-friendly, delicious, meat-free meal, quick!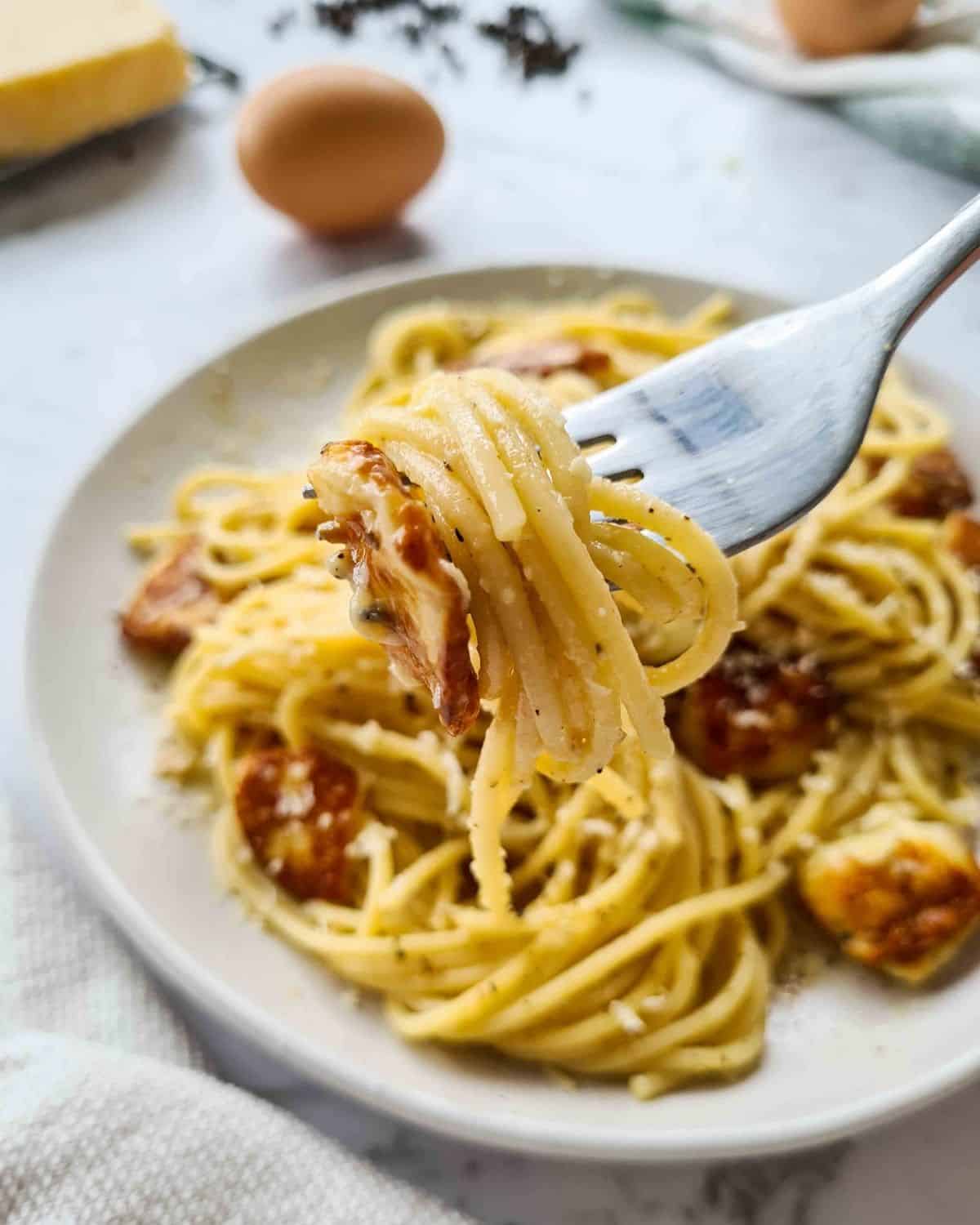 Love a quick and easy pasta dish? Give this popular 15 minute Easy Garlic Prawn Pasta a go!
Jump to:
Ingredients
Sometimes simple is best. This super easy and tasty halloumi carbonara doesn't need much.
Optional; sprinkle some finely chopped fresh parsley to freshen this pasta up!
Step by step instructions
All up, this pasta dish takes just under 20 minutes from prep to serve. Sounds good right?
First things first. Put the kettle on and get the pasta cooking. Remember! always season the pasta cooking water with salt. Generously. Before adding the pasta in.
This step will ensure the finished dish is flavourful through and through. No longer will you be having bland pasta now that you're in the know ;).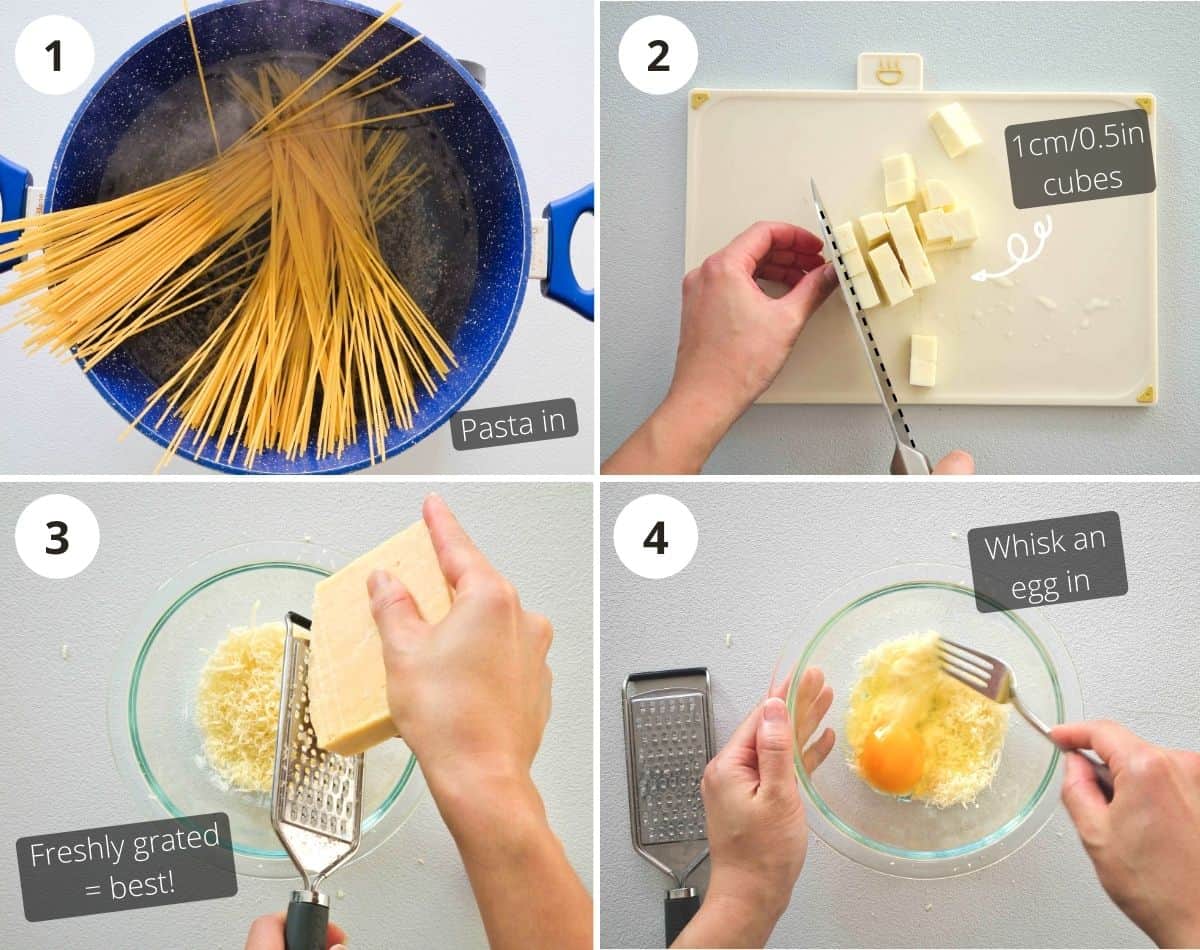 Freshly grated parmesan cheese is a must! Ready shredded parmesan cheese from the packet are convenient, I know. However, to prevent the parmesan cheese from sticking to each other, they have added anti-caking agents. When it comes to creating a silky, creamy and cheesy sauce for this halloumi carbonara, you want the parmesan cheese to melt nicely into the pasta.
Anti-caking agent is not your friend here. It'll add a grainy texture to the sauce and grainy spaghetti carbonara? No, thank you.
Grate your own cheese, it tastes better, has a better texture and it's more economical.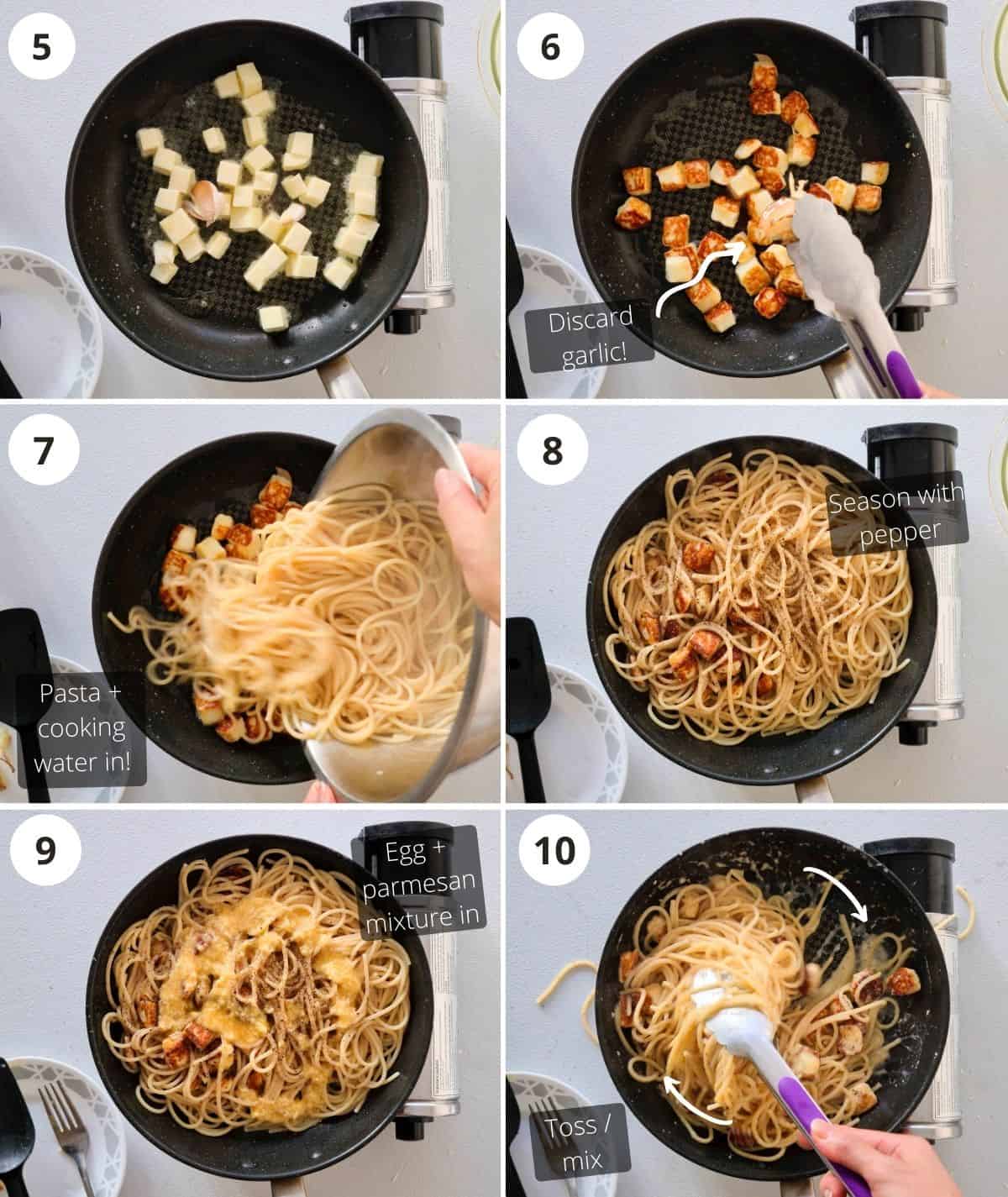 This is a simple, however, technical dish at the same time.
The #1, most important technique to remember when making this dish is to turn the heat off before tossing the pasta through the whisked egg and parmesan cheese mixture. This will create the most amazing, silky and creamy sauce. Without any added cream!
Another very important thing to note is to fry the halloumi to golden brown. This caramelisation process will add complexity to its flavour and as I always say, colour = flavour.
To serve, get generous with the freshly grated parmesan cheese and add extra heat with some ground black pepper.
Tips & tricks to make this delicious
Turn the heat off before adding the whisked egg and parmesan cheese mixture. This will prevent the eggs from turning into scrambled eggs! This brings takes us to the next point.
Add pasta cooking water into the pan to stop it from sizzling. This does 2 things.

1. Lowers the heat in the pan (in addition to turning the heat off completely) and thus no scrambled eggs.
2. Starch in the cooking water will emulsify and create an amazing, silky and creamy sauce for the carbonara.

Boil pasta to al dente then take it out. It'll continue to cook (to perfection) and soften as it's being tossed in the pan with the carbonara sauce.
Use freshly grated parmesan cheese. Always. Reasons as per above.
Good to know
Can you eat halloumi raw?
Yes, however, it tastes soooo much better when it has been pan fried or grilled.
What cheese can be used in carbonara?
The most authentic carbonara uses pecorino romano which is very similar to parmesan cheese. The key distinction between pecorino and parmesan is that pecorino is made of sheep's milk whereas parmesan is made of cow's milk. Both are absolutely delicious to use! I used parmesan cheese for this recipe.
What is carbonara sauce made of?
Very simply, freshly grated pecorino romano mixed in whisked eggs and pasta cooking water. This, combined with fat (in the case of this recipe, extra virgin olive oil) tossed through the pasta creates the creamy, silky beloved sauce.
Truly authentic carbonara does not use any cream! But then again.. this is a carbonara with a twist.
Enjoyed this recipe? Let me know your thoughts/questions by dropping a note in the comments section below! I'd love to hear from you 🙂
Happy cooking!
Gen
📖 Recipe
Halloumi carbonara
Spaghetti carbonara with a twist! Swap the bacon out with the savoury, creamy halloumi and you've got yourself a silky and delicious halloumi carbonara. Meatless Monday meal, tick.
Print
Pin
Rate
Ingredients
200

g

/ 7oz dried spaghetti

150

g

/ 5oz halloumi cheese

cut into 1cm/½inch cubes

1

egg

¼

cup

parmesan cheese

or pecorino romano, freshly grated

1

clove

garlic

1

tablespoon

extra virgin olive oil

salt & pepper
Instructions
Cook pasta according to packet instructions, till al dente. (note 1) Remember to season the water with salt.

Whilst pasta is cooking, combine parmesan cheese and egg in a bowl. Whisk well, set aside.

Proceed to the following steps when the pasta has about 5 minutes left in cooking time.

In a non-stick pan, add olive oil, halloumi and a smashed clove of garlic (skin on). Fry the halloumi on medium heat. (note 2)

Do not toss or flip the halloumi around, allow one side to sizzle and turn golden brown before flipping with a spatular and brown the other side. This will take about 3 - 4 minutes. (note 3)

Remove and discard the garlic (and skin!) with a pair of tongs. It has served its purpose.

The pasta should be ready and cooked to al dente now. Add pasta and ⅓ - ½ cup of pasta cooking water into the pan. Season heavily with black pepper. Toss pasta through like a boss or use a pair of tongs. Turn the heat off. (note 4)

The pan should no longer be sizzling. Now, slowly pour the whisked egg and parmesan cheese mixture into the pan, in a circular motion.

Very quickly now, toss the pasta through again and ensure it's thoroughly mixed and pasta is creamy, silky and exciting.

Serve immediately, with extra parmesan cheese and black pepper.
Notes
Note 1. Cook pasta to al dente just means taking the pasta out with about 2 minutes left on the recommended cooking time per packet instructions. Pasta should have a bit of a bite but not hard. The pasta will continue to cook (to perfection) as it is tossed through the creamy and silky carbonara sauce.  Note 2. Smash garlic with the flat side of a knife or heel of your palm. We're only after a hint of garlic. The garlic will be discarded just before the pasta is added to the pan. No garlic bits throughout this pasta. Note 3. Be careful, the halloumi will spit! Halloumi is stored in a salty liquid. Thus, when added into a hot pan with oil, it'll spit a little. A trick to minimise spitting is by pat drying the halloumi before adding to the pan.  Note 4. Turn the heat off just before whisked egg and parmesan mixture is added. This is a very important step as it'll prevent the egg from turning into scrambled eggs!  No salt added. Apart from salt being added to the pasta cooking water, this recipe does not require any more salt. The halloumi is salty and the parmesan cheese (or pecorino, if using) is salty too. I find the seasoning to be perfect as is, with freshly cracked black pepper. Of course, adjust seasoning to suit your taste.  Leftovers best finish this dish on the day. I've not tried reheating this in the microwave the next day. Potential scrambled eggs? If you have, let me know!
Nutrition
Calories:
464
kcal
|
Carbohydrates:
38.4
g
|
Protein:
22.8
g
|
Fat:
24.4
g
|
Saturated Fat:
12.8
g
|
Cholesterol:
148
mg
|
Potassium:
228
mg
|
Sugar:
1.4
g
|
Calcium:
252
mg
|
Iron:
3
mg
More quick and easy meals